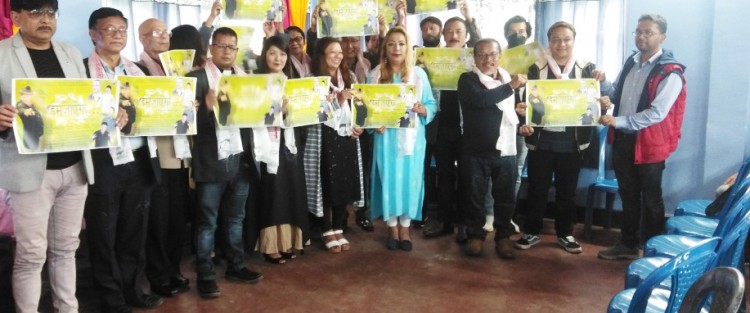 Tuesday, May 17, 2022 07:45 [IST]
Last Update: Tuesday, May 17, 2022 02:14 [IST]
'Hum Jayega' shooting concludes, on screens this year end
DARJEELING,: Shooting for the eponymous Nepali movie on 'Hum Jayega', a legendary comic personality in Nepali folklore and jokes, has concluded and is set to be released by the end of this year.
On Sunday, one song of the upcoming movie was released here as part of the pre-release promotion. The production house 'Baishnavi Productions' also made public the actor who is playing as 'Hum Jayega' in the movie. The lead artist was revealed as Jeevan Gurung.
"It has been more than 14 years now that we wanted to have a movie showing Hum Jayega as he is an iconic figure known by the Nepali-speaking community the world over. However, the movie is based on the jokes associated with him and not a bio picture. The movie does not portray his life but the jokes which are popular with the people. The movie is all set to release by the end of this year," said Aditya Raya.
Raya has written the script and directed the movie.
'Hum Jayega' is the nickname given to late Dal Bahadur Gurung, a resident of Kakjohra here. Fictional jokes attributed to 'Hum Jayega' have been circulated in the hills and beyond for decades, many of them published as a collection of jokes.
Litterateur Bijoy Kumar Rai played a major role in immortalizing 'Hum Jayega' character by taking out different books featuring 'Hum Jayega' jokes. Much of the jokes in the movie have been used from one of his books 'Hum Jayega ko diary' published in 1982.
"I still remember that it was in my college days when I was introduced to Hum Jayega who like many others I had thought was a fictional character. He looked like a serious person who told jokes without laughing or smiling. It was then I thought of taking out a book which had a collection of jokes based on him. Not all the jokes in the book were entirely his but I made some of them up influenced by the books I used to read them. The book became so popular that about 5,000 copies got sold in one month. The figure has become so internationally accepted in our community that I still get offers for the republishing of the book," said Bijoy Kumar Rai.
According to Rai, the song released on Sunday titled 'Hum Jayega' was also written by Dal Bahadur Gurung aka Hum Jayega.
Besides the lead actor, the 'Hum Jayega' movie boasts of a strong cast with eminent actors here like Lalit Goley, Deoraj Sherpa, Arun Prakash Rai and Hemant Giri playing major roles in it. These actors are famous for their comic timings in movies and theatres here.