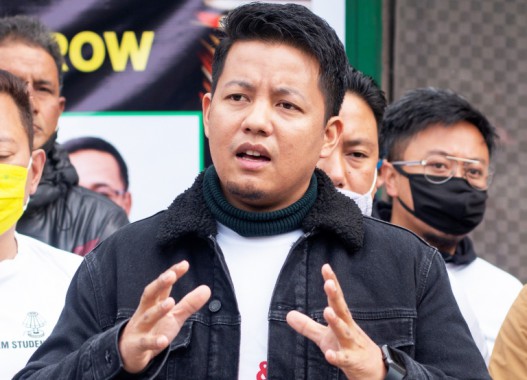 Tuesday, Jan 19, 2021 08:00 [IST]
Last Update: Tuesday, Jan 19, 2021 02:17 [IST]
Inclusion of Majhi community won't delay process, to leave them out would be a historical mistake: MP
KUNAL RAI
GANGTOK,: Lok Sabha MP Indra Hang Subba on Monday said the January 11 government resolution on tribal status demand records the SKM government's commitment to the left-out ethnic communities of Sikkim.
The resolution includes 11 indigenous groups long listed as 'left-out communities' and recently added Majhi community.
Speaking with media here, the MP said inclusion of Majhi community into the long pending demand would not delay the process of attaining the ST status.
"It will not delay the process as the Majhi community is also similar to the other 11 left-out communities. If we go through the criteria or any other basis, everything is similar and they are our brothers. To leave out the Majhi community and secure tribal status to the other 11 left-out communities would be a historical mistake in near future. It is best to demand tribal status for all the 12 communities," said Indra Hang.
Former Chief Minister Pawan Chamling had on Sunday cautioned that introduction of Majhi community in the government resolution has "complicated the matter-which will unnecessarily delay the process of the case." He contended that with the introduction of Majhi in the group, now the Centre will ask for a re-examination which will send the matter back to square one.
The MP informed that the government resolution would be submitted to the Centre for consideration.
"The Union government since long is very positive on this demand and is in favour of extending tribal status to the remaining communities of Sikkim. We have also been following up the demand with the Centre."
Indra Hang mentioned that as an MP from Sikkim, he would do everything possible on the demand, whenever a bill with such proposal is placed in the Parliament by the Centre.
"As a representative of Sikkim and the 12 communities in the Lok Sabha, I will certainly do everything possible for the tribal status demand. There would be a voting process on every bill in the Parliament. I have been talking and writing to fellow Parliamentarians on this demand so they extend support during voting in case a bill on tribal status demand is brought in the Lok Sabha. I have been working on this issue since day one and will continue to do so till the 12 communities of Sikkim achieve tribal status," said Indra Hang.