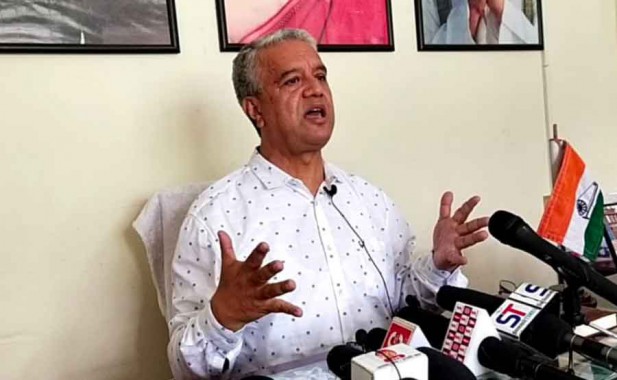 Monday, Jul 06, 2020 13:30 [IST]
Last Update: Monday, Jul 06, 2020 07:48 [IST]
Independent probe demanded on Melli CP entry case
People have lost faith in administration: Congress
PANKAJ DHUGNEL
GANGTOK: Sikkim Pradesh Congress Committee (SPCC) president Bharat Basnett on Sunday said the Melli checkpost fiasco exposes the "weak stand" of the SKM government and demanded an independent committee to investigate the incident of July 1. People have lost faith in the administration, he said in a press meet here.
"To protect one mistake, the State government is making a bunch of mistakes and that began firstly with the suspension of the two constables of Melli checkpost. Mere hours after the Sikkim Police clarified on the incident, why does the chief secretary's office has to revoke the suspension when the Sikkim Police clearly stated that suspension is not a punishment but part of the process?", questioned Basnett.
The SPCC president maintained that norms of Disaster Management Act have been violated when the 5-member group entered Sikkim without following the Covid-19 guidelines.
"Perhaps the law applies to only hapless individuals and those in the opposition. Sushmita Subba and her family had no influencers like the Director General of Police (DGP) to aid them and they are stuck at Rangpo side of West Bengal for over a month. Even the former Chief Minister Pawan Chamling was not allowed inter-district travel recently, perhaps the administration has forgotten that he is a sitting legislator from Namchi-Singhithang constituency. These are all lapses in judgement or the use of greater influence by the State administration and the government," said the SPCC president.
"The SKM has come to power with the people's mandate, it is clear that the people are not happy with the judgement of the Sikkim Police and the lapse in judgement of the State administration. Respecting the people's mandate, the SKM must constitute an independent committee consisting of former bureaucrats to get to the crux of the matter, vesting the power on the legislation. People have lost faith in the State administration, they have abided by the rules laid down by the State government, so when somebody is favoured that way, people will feel bad," said Basnett.