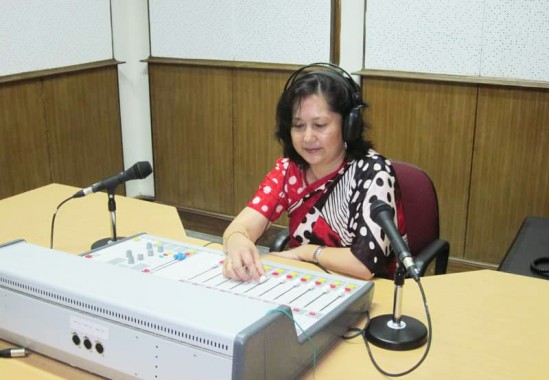 Monday, Mar 08, 2021 07:30 [IST]
Last Update: Monday, Mar 08, 2021 02:01 [IST]
International Women's Day 2021
NAMO DIXIT
Anita Niraula, the AIR Gangtok voice followed by entire Sikkim
Namchi,: The history of Indian women is full of pioneers, who have broken gender barriers and worked hard for their rights and made progress in the various fields. Some women achievers have open paths to achieve what was perceived as impossible.
Every year on International Women's Day observed on March 8, iconic and successful women personalities from various walks of life are portrayed as an example, while this year we introduce an equally successful woman personality from the world of journalism.
Meet Anita Niraula, who is a homemaker, a successful media professional, a good human being and above all an example of hard work, dedication, perseverance and success.
Followed by Gangtok AIR listeners from past couple of decades, Anita Niraula is also a multifaceted personality as a writer, columnist, announcer, newsreader, an enthusiastic learner, a mother and a successful professional.
Born on August 11, 1958 in Kurseong, Anita Niraula was a dramatist right from her childhood days who also participated in cultural programmes as a dancer. Her mother late Muna Chettri was a housewife and father late B.B. Chettri was a government employee in the Post Office, Kurseong.
Unlike today, those days it was next to impossible for a woman to get into challenging jobs but Anita Niraula joined All India Radio (AIR), Kurseong as a child artist in 1965 when she was just 7 years of age. Since then, she continuously worked as a casual employee in All India Radio and presented various programmes like Yuva Vani, various programmes on women, radio reporting, radio drama etc. Her voice in radio jingle (advertisement on family planning) which was recorded as a child still goes in the air and it is preserved in the archives of Kurseong AIR. Later she joined radio journalism as a casual newsreader in 1978 in All India Radio Kurseong.
"Those days I used to receive cheques of Rs 25 for one day news reading and cheque of Rs 5 for one day performance as a child artist in the programme 'Nani Ko Mela' which used to be aired live on every Sunday at 9:05 am," she shares. She was also a teacher apart from being a casual newsreader in Kurseong
Anita left Kurseong in 1980 to settle down in Gangtok after her marriage. Her husband G.B. Niraula was working in TNSS school as a PGT teacher. She also worked as a teacher in TNSS school for few years voluntarily and contributed her service to the school while her heart remained with the media world. She used to visit Kurseong twice or thrice a month to read news in AIR Kurseong.
Later in 1982 when AIR Gangtok started functioning, Anita joined as a casual newsreader and performed regularly while still working as a teacher in TNSS School on contract basis. She later worked as a translator in the Law department from 1985 to 1989. She joined AIR Gangtok as a regular newsreader in 1989.
Anita Niraula retired in 2017 but is still working as casual newsreader.
"I published a book titled 'Black & White Sikkim Maa Sangeet Bhitraka Haru' in Nepali which contains life sketches of more than one hundred musicians and promoters of Nepali music in Sikkim and in the country during the period of early 1930s to 1980s after three years of my research work," said Anita.
She was also awarded with Investigative Journalism Award for her research work by Himalchuli Group of Tourism Industries in 2015 followed by Shova Kanti Thegim Smriti Literary Award in 2018 and India Book of Records in 2015 for being the first Nepali writer of research based book on music artists in India.
Anita was also honoured with Women Achiever's Award by Press Club of Sikkim in 2017 and Women Achiever Award by W Factor Group as well.
Anita Niraula is the first background announcer of live musical programme in this region and has produced a documentary film of around one hour in Nepali titled 'Sikkim Maa Bees (20) Sutri Karyakram' in 1986.
Anita Niraula is also passionate towards writing from her childhood but did not think of publishing her articles. She is a regular writer of articles and poems for Nepali dailies and magazines of Sikkim, Siliguri, North East region and Delhi. She has written a monograph of one of the renowned Nepali litterateurs which is yet to get published by Sahitya Academy, New Delhi.
Presently, Anita Niraula is a successful retired woman who is still contributing from her capacity for the people and society. She started her digital media page 'VAANI' for which writing, reporting, editing, presenting, mixing and uploading everything is done independently by her, at home. It was launched in the year 2020 on June 14. Her story is a perfect example for many women on this International Women's Day celebration with its theme "Women Leadership and Everyday Challenges".