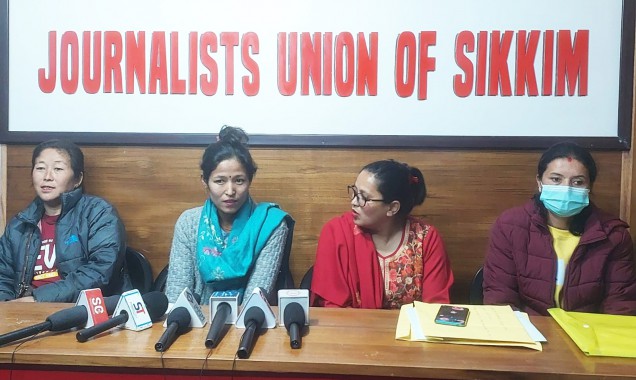 Saturday, Nov 26, 2022 21:45 [IST]
Last Update: Saturday, Nov 26, 2022 16:08 [IST]
Jorethang assault: Victims demand re-tender of irrigation work, arrest of all assaulters
KUNAL RAI
GANGTOK,: The group of applicants who got manhandled and physically assaulted during an irrigation project tender at Jorethang on Friday have appealed the State government and Chief Minister P.S. Golay to re-tender the work along with the arrest of the assaulters.
Addressing a media conference here on Saturday, Raksha Pradhan and other members shared details what took place when an irrigation work amounting to Rs. 34 lakh of Lower Sadam was called for bidding at the Irrigation department office in Jorethang. The work was to done from Sarki Jhora to Mantri Gaon, Lower Sadam.
"As November 25 was the last date for submitting the tender, our group went to the Irrigation department office. Our group consisted of four women and we had some of our villagers," said Raksha.
The group claimed that they were restricted to enter the Jorethang office twice by another group which had also come to bid for the irrigation work. "During the argument, some unknown persons started assaulting our villagers. One of them has severe nose injuries and is under treatment. The other group had some known individuals and they claimed that they have a written document stating that the work has been allocated to them by the Chief Minister. However, they could not show the document when we asked for it," said the victims.
"The particular work has come to our ward and we being the party supporters wanted to do it. The Chief Minister has also directed that women can bid for tender valuing up to Rs. 1 crore without TDR. The assault is shocking as we were obstructed from bidding for the tender. It is a gross injustice to us as it was for the first time that we women of our ward were taking part in such tender work," said the group.
Following a complaint by the victims, police have arrested one person. The victims said police have assured to nab all the accused persons by Monday.
"We request the Chief Minister and the State government to re- tender the said work so that injustice met to us is corrected and justice is delivered. Similarly, we appeal the government to also nab the miscreants who attacked us and our supporters," said the victims.