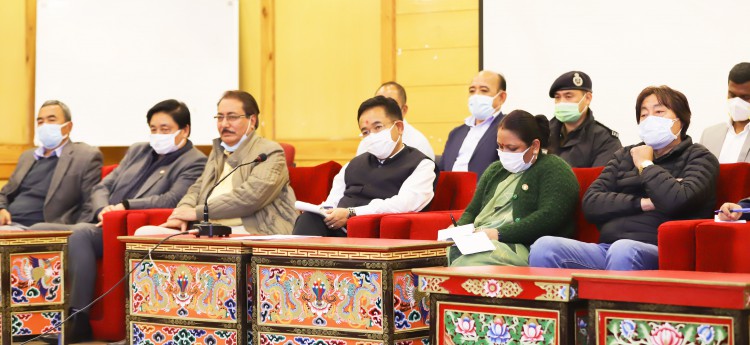 Monday, Dec 06, 2021 07:15 [IST]
Last Update: Monday, Dec 06, 2021 01:39 [IST]
Jorethang Maghey Mela only if Covid situation is stable: CM
NAMCHI, (IPR): Chief Minister Prem Singh Tamang chaired a meeting with the local gentry of Jorethang and officials of south district regarding the upcoming Maghey Sankranti Mela 2022 at conference hall of SIRD & PR, Karfectar on Saturday.
Present amongst others were ministers Samdup Lepcha, B.S. Panth and Karma Loday, MLAs, chairperson, advisors, representatives of NJNP and other officials.
Addressing the gathering, the Chief Minister spoke about the development and other amenities created at Jorethang for the benefit of the public at large. He underlined that Jorethang has its own unique feature. He mentioned that at Karfectar, a cancer hospital will be set up soon which will be hugely beneficial for the citizens of this State as this hospital will include advanced healthcare system coupled with best medical minds.
The establishment of this cancer hospital will play a pivotal role in treatment of the patients, it will also be cost effective as patients will not need to travel far and wide and this hospital will further aid the locals in getting an opportunity to be self-reliant, said the Chief Minister.
Delving on Maghey Sankranti Mela 2022, the Chief Minister highlighted that this mela is one of the historical and traditional melas celebrated in Sikkim. However he did underlined that this mela will be conducted only if the Covid-19 pandemic situation is stable. Moreover a committee and other necessary body need to be set up and he urged for better coordination between the officials and the organizing committee. Self Help Groups and their products needs to be highlighted during the course of this fair and that focus should be on promoting homegrown supplies and also uplift the local talents, he added.
During the course of the meeting, the Chief Minister along with the dignitaries gave a patient hearing to the grievances of the local people from in and around Jorethang. He along with the officials sought redressal from various issues and also sought the intervention of the administration to adjust the issues being faced by the local gentry of Jorethang.
The Chief Minister added that it should be the duty of the locals of Jorethang on how to further bring substantial progress at the sub-division as the State government has brought in efforts to bring about development in the area with inclusion of various projects.