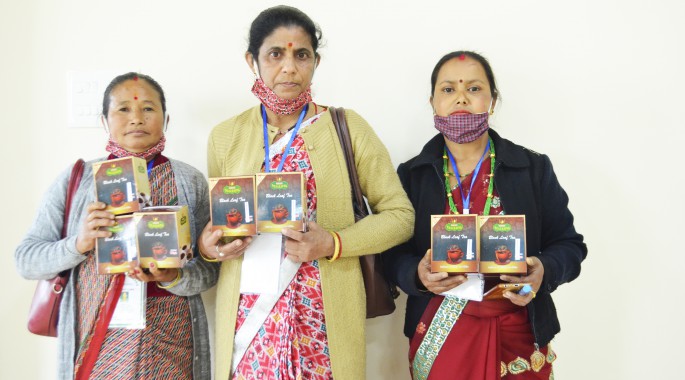 Tuesday, Apr 06, 2021 08:00 [IST]
Last Update: Tuesday, Apr 06, 2021 02:22 [IST]
Kadambari SHG reaps benefit through tea cultivation
AJAY THAMI
PAKYONG,: Kadambari Self Help Group (SHG) comprising of nine women members of Lapthang under Pakyong subdivision have started reaping benefits from the tea cultivation which they had started in three acres of land during 2016.
Kadambari SHG president Biju Pokhrel said this is purely organic tea which they have grown organically and is hand-processed. The tea product is FSSAI number registered from the Health department.
Pokhrel informed that Agriculture Technology Management Agency East (ATMA), Agriculture department, is promoting their products. ICAR is also interested to visit our garden and support our plantation, she added.
"We have started plucking tea leaves since last year. The plucking season comprises of three quarters March to June, July to September and October to November in a year. For December to February there will be no plucking," Pokhrel informed.
At present we have started selling at Guwahati and Hyderabad and soon we will formerly launch here at Sikkim, she added. We have recently received basic training from Temi Tea Garden and soon we will categorise our production and sell accordingly, she said.
The tea leaves is being sold (small packet) (125 gram) at Rs 100 at local market and Rs. 150 in other States.
Kadambari SHG secretary Manita Devi Chettri said: "It is profitable production as it is not destroyed by wild animals and we only have to plant only once and harvest for nine months in a year. Also it cost less labour and compare to other crops."
The SHG members have planted 9,000 saplings at their private land and are planning to extend in near future.