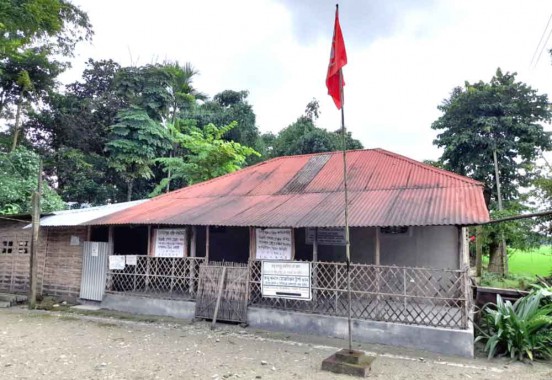 Tuesday, Aug 04, 2020 13:15 [IST]
Last Update: Tuesday, Aug 04, 2020 07:41 [IST]
KanuSanyal followers wait for State nod to build Trust Bhawan
PRASHANT ACHARYA
NAXALBARI: Members of theCommunist Party of India - Marxist-Leninist (CPI-ML) are waiting for the State government's approval since last three years to establish the KanuSanyal Memorial Trust Bhavan in memory of veteran CPI Naxal leader who started the Naxalite movement in 1969.
Party members have applied that a trust be createdin the office where CPI-ML founder secretary used to reside since 1988 and had committed suicide in 2010.
The party office is situated at SidulaJote under Hatigichagram panchayat of Naxalbari block.
The mud and tinned structure was destroyed by wild elephants and was reconstructed after collecting donations from the members who sacrificed their lives for the sake of the underprivileged farmers.
Though the application for the Trust was made in 2013, it was rejected due to some inter-party disagreement as the members could not file documents within the term of 30 days.
KanuSanyal led a peasant uprising in Naxalbari'sSebdullaJote where the party office is situated. Few members who eulogise Sanyal's movement gather there every evening to discuss about the future agendas.
DipuHaldar, CPI-ML general secretary of Darjeeling district said, "KanuSanyal Memorial Trust will be established at any cost, we are just waiting for the command from Nabana (State secretariat). We demand that the government should provide the lease for 99 years of the said land where the proposed 'Trust Bhavan' will be constructed."
She also informed that all the formalities had been completed and submitted to the BLLRO office in Naxalbari and later it was forwarded to Nabana. A team from Nabana had also visited and made inquiries.
According to Haldar, a library, three rooms, separate toilets and hall will be made out of bamboo and tin roof in one bigha of land. She said the rooms will be made so that visitors, media persons and scholars can sit comfortably to do their works.
The village that was adopted by former Darjeeling MP S.S.Ahuluwalia during his tenure remains neglected due to lack of development. Villagers alleged that since the area is a stronghold of CPI-ML neither the State nor the Centre government undertake development of the area.