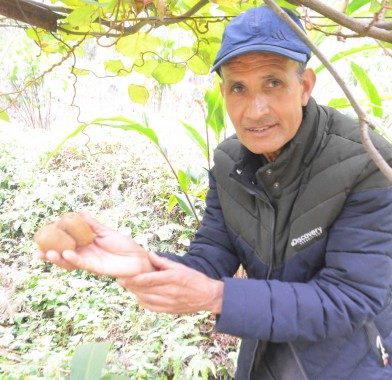 Sunday, Nov 28, 2021 06:15 [IST]
Last Update: Sunday, Nov 28, 2021 00:45 [IST]
Kiwi farmer reaping benefits
PAKYONG, : K.L. Sapkota, a progressive farmer of Linkey Parakha under Ganthang-Machong constituency, has started reaping benefits from the kiwi farming.
Sapkota, who had planted more than 70 kiwi plants in 2019, said the plants have started bearing fruits this year. I will be selling the fruits from next year and expand my cultivation, said Sapkota.
"Kiwi cultivation is not as laborious; the only problem is to save the vine from hailstones during the flowering stage in March-April."
Horticulture joint director Suren Gurung had visited the farm earlier this year and provided technical know-how about the pruning and manuring of the plants. He said the department will provide anti-hail net designed for kiwi fruits to the farmers this season.