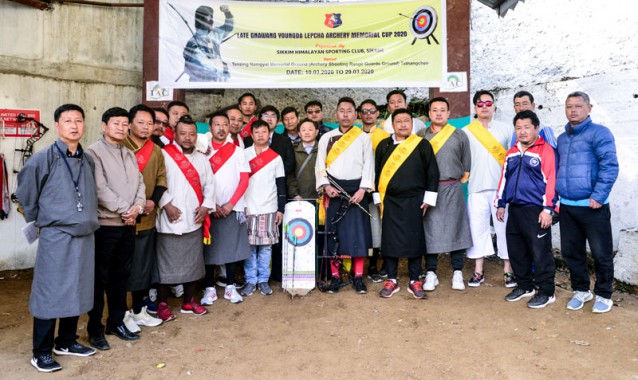 Saturday, Mar 14, 2020 13:00 [IST]
Last Update: Saturday, Mar 14, 2020 07:29 [IST]
Late Gnawang Youngda Lepcha Archery Memorial Cup 2020 at Tathangchen
Staff Reporter
GANGTOK: The Late Gnawang Youngda Lepcha Archery Memorial Cup 2020 is being held here at Tathangchen archery complex since March 10.
The tournament is supported by Sikkim Himalayan SC and organised by friends of Late Gnawang Youngda Lepcha of Tathangchen who had passed away last May. He was a fine archer and a sportsperson and in his memory, his friends came together to organise the tournament, said the organisers.
The match on Friday was played between Red Bull Tathangchen and Sichey Mavericks.
Tshering Dorjee Lepcha, the eldest brother of Late Gnawang, was the chief guest on the occasion.
Speaking with SIKKIM EXPRESS, Sikkim Himalayan SC owner Tenzing Lamtha informed that 12 teams of Sikkim are taking part in the tournament. He added that the tournament was also organised to maintain the momentum of the 19th Chief Minister's Archery Gold Cup tournament.
The Chief Minister's Archery Gold Cup tournament, being organised by Sikkim Archery Association, has been postponed for 30 days since last Friday. The postponement was done following the State government's decision to ban entry of all foreigners including Bhutan nationals into Sikkim as a precaution against coronavirus.
The ban affected the Chief Minister's Archery Gold Cup tournament which had teams from Bhutan.
"The Chief Minister's Archery Gold Cup tournament got postponed in the middle stage as Bhutan teams could not come to Sikkim. During this gap period, we discussed on how to maintain the momentum given by the tournament and as such, we came forward to hold this memorial tournament. We are witnessing exciting matches daily here," said Tenzing.
The final of the tournament will be held on March 29.