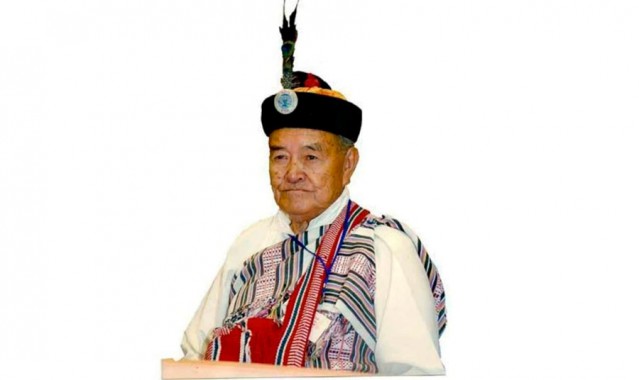 Friday, Jul 31, 2020 13:00 [IST]
Last Update: Friday, Jul 31, 2020 07:26 [IST]
Lepcha stalwart Sonam Tshering passes away
SE Report
DARJEELING/GANGTOK: Padmashri Sonam Tshering Lepcha, whose contributions towards Lepcha culture reverberates strongly in both Sikkim and Darjeeling hills, passed away on Thursday at his native village Bong Basti, Kalimpong. He was 92 years old.
"His sugar levels were fluctuating and doctors were treating him at home. He passed away this morning," said N.T. Lepcha, the eldest son of Sonam Tshering Lepcha.
Sonam Tshering Lepcha was born on January 3, 1928 at Bong Basti. He went on to enrich the Lepcha culture with his folk songs, dances and dramas during his lifetime.
According to his son, Sonam Tshering Lepcha composed more than 500 Lepcha songs and was the first from Lepcha community to sing a Lepcha song in All India Radio in 1960.
Sonam Tshering Lepcha was honoured with several awards for his contributions towards preservation and promotion of Lepcha culture and music. The awards includes Padma Shri in 2007, Banga Bibhushan in 2014 and also the Sangeet Natak Akademi award.
Sonam Tshering also set up a Lepcha museum at Bong Basti which displays traditional aspects of Lepcha community and indigenous instruments.
Prime Minister Narendra Modi paid his tributes to the Lepcha legend.
"Padma Shri Ren Sonam Tshering Lepcha Ji was a a multi-faceted personality. He made outstanding efforts to popularise the great Lepcha culture. His works are respected across generations. Anguished by his demise. Condolences to his family and admirers. Om Shanti," tweeted the Prime Minister.
West Bengal Chief Minister Mamata Banerjee also extended her condolences.
"I am expressing my deepest condolence on the passing of distinguished folk musician, lyricist and composer from Lepcha community, Sonam Tshering Lepcha. He contributed immensely in the revival of Lepcha culture. He had also written a book on Lepcha folk song," said Mamata in a press statement.
"His demise is an irreparable loss to our cultural landscape of the hills. My deepest condolences to his family members and entire Lepcha community along with the admirers of Sonam Tshering Lepcha," she added.
Similarly, GTA chairman Anit Thapa said: "I am saddened to hear about his demise and remember his contribution towards the Lepcha community. I extend my heartfelt condolences towards his family and entire Lepcha community."
The funeral of Sonam Tshering Lepcha would be held tomorrow at Kalimpong. His body will be kept at the Lepcha hostel near Kalimpong bazaar so that people can pay their last respects.
We are hearing that the GTA will be presenting a guard of honour to our late father, said N.T. Lepcha.
SIKKIM MOURNS
Governor Ganga Prasad has expressed grief over the death of Padmashri Sonam Tshering Lepcha whose contributions enriched both Sikkim and Darjeeling hills.
"Ren Sonam Tshering Lepcha was a multi-faceted personality, who inspired thousands across generations through his proactive role and contribution in promoting cultural heritage of Lepcha community in global arena. He had made invaluable contribution to enrich the culture and traditions of Lepcha community. It will be extremely difficult to fill the vacuum created by his untimely death. Sikkim and Darjeeling hills have lost a colossal artiste," said the Governor in his condolence message.
The Governor prayed that God give enough strength to family members, Lepcha community and admirers to cope up with the crisis on the demise of the renowned and acclaimed Padma Shri awardee.
Similarly, Chief Minister P.S. Golay extended his sincere condolences on passing away of the renowned Lepcha folk musician Sonam Tshering Lepcha.
My deepest sympathies goes out to his family and friends and pray that God gives them strength in this hour of grief, said Golay in his condolence message.
Former Chief Minister Pawan Chamling and his SDF party also mourned the passing away of the Lepcha stalwart.
In his condolence message, Chamling said Sonam Tshering Lepcha dedicated his life to the revival and preservation of Lepcha art, culture and heritage and his contributions to this and to Sikkim will not be forgetton.
"I knew Shri Lepcha well and I was inspired by his work. I am deeply saddened to hear the news of his passing," said Chamling extending his heartfelt condolences to the bereaved family.
Similarly, Dzongu MLA Pintso Namgyal Lepcha has mourned the demise of the Lepcha legend. He extended heartfelt condolences from the people of Dzongu, the Lepcha reserve in North Sikkim.
In his condolences, the Dzongu MLA said Sonam Tshering Lepcha gave an identity to the Lepcha community and also brought respect for the community in the country.
Songs composed by Sonam Tshering Lepcha which reflects the culture of Lepcha community in Dzongu will remain forever in the hearts of the Dzongu people, said Pintso Namgyal.
It is saddening and heart breaking to know the the legend has left for his heavenly abode and I along with all from Dzongu submit heartfelt condolences, said the Dzongu MLA.