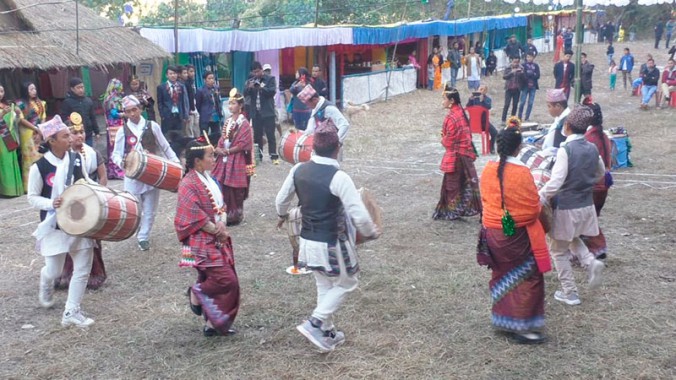 Saturday, Dec 07, 2019 15:00 [IST]
Last Update: Saturday, Dec 07, 2019 09:29 [IST]
Limboo festival Chasok Tongnam starts at Ranipool
KUSH HANG LEEWANG
GANGTOK,: The 4th edition of Chasok Tongnam, the harvest festival of Limboo community, commenced today at Ranipool Mela Ground, East Sikkim. The three-day festival is organized by Gangtok-based Niyara Production. 
The inaugural day of the festival was attended by former Member of Parliament Pahalman Subba as the chief guest along with other dignitaries. The people from Limboo community representing various Limboo organizations and groups from Sikkim, Darjeeling, Kalimpong, Kurseong and Nepal were also present at the event.
Considered as one of the most important cultural festivals of Limboo community, Chasok Tongnam is celebrated in the month of December annually by Limboo community. The first harvest of the year in form of grains and foodstuffs are offered to Limboo goddess and deities and thanked for the successful harvest of the year.
The managing director of Niyara Production, Niyara Subba informed that the production house is organizing Chasok Tongnam since 2016 with an aim of redeeming the age-old culture, customs and traditions of Limboo community, sensitizing the new generations about the community's rich cultural heritage and the roles to be played by youth for protection and preservation of distinct identity of Limboo community secured by the community's cultural diversity. She maintained that in the wake of rapid modernization of the world, it was necessary to work towards revival of the gradually degrading cultural heritage. She called for greater participation of Limboo youth for keeping alive the age old customs and traditions practiced and followed the ancestors. 
"Organizing Chasok Tongnam is our little effort to work towards redemption of our age old customs and traditions those are in verge of extinction due to lack of awareness and zeal for conservation and protection," she said. 
Former MP Pahalman Subba appreciated the initiative taken by Niyara Production. He expressed happiness over Limboo community coming together at a platform with a constructive aim of preserving age-old cultural practices. Preserving our cultural practices is protecting our community, he maintained.
Competitions on Limboo cultural dances and songs were included at the event today.
Child artiste and singer Kehar Sing Limboo from Terahthum and singer Trishana Nembang from Kathmandu also performed at the event.