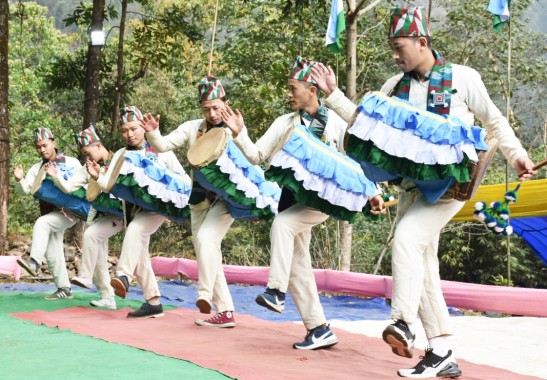 Friday, Jan 15, 2021 05:45 [IST]
Last Update: Friday, Jan 15, 2021 00:17 [IST]
Limboo festival Kokfekwa Tongnam celebrated at Lingchom
GANGTOK,: PHE minister Bhim Hang Limboo attended Kokfekwa Tongnam festival at Lingchom, west district as the chief guest today. The minister was accompanied by PHE chairman Harinarayan Subedi, Transport chairman Basant Tamang, SABBCO chairman J.B. Subba, Padma Shri B.B Muringla and other dignitaries, informs an IPR press release from Geyzing.
Kokfekwa Tongnam marks the beginning of the New Year of Limboo community.
Addressing the programme, the minister emphasised on the importance of celebrating the festivals and practicing culture and tradition frequently. He urged the youth to preserve and conserve their cultures, languages and literature so that the plurality and diversity remains embedded in the future generations.
Bhim Hang informed that under the leadership of Chief Minister P.S. Golay, Limboo community has flourished intensively. Highlighting the developmental works in progress, he informed that the Sirijunga Research Institute located at Hee Patal, West Sikkim will be reconstructed with proper plan. He also informed that 'Chasok Tongnam' has been declared as a gazetted holiday from this year in the State. Furthermore, he mentioned that a budget has been sanctioned for the project of Iman Singh Chemjong at Tikjeck and Yuma Manghim at Darap.
The minister also gave assurance for quality construction and timely completion.
During the course of the programme, the organising committee felicitated Bishnu Maya Settling, Pritam Limboo, Suraj Limboo, Budha Raj Limboo, Prasad Sing Limboo, Buddhi Man Limboo, Chandra Bir Limboo and Ran Hang Limboo for their contribution towards the community.
The celebration also witnessed the launching of Limboo poetry book 'Misek' of Jeewan Limboo and Limboo calendar Yalamber calendar through the hands of the chief guest.
Earlier, the minister offered prayers and lighted sacred lamp at the nearby Manghim and sought blessings from Yuma Mang, the release mentions.