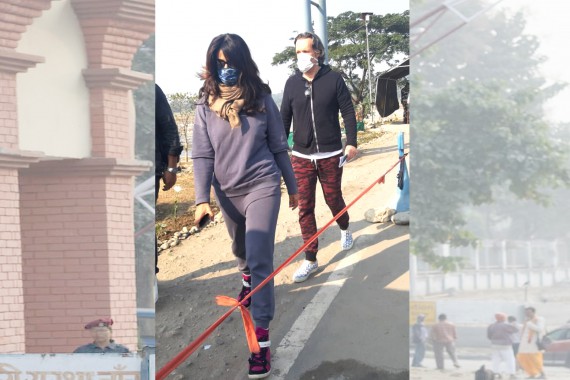 Monday, Jan 10, 2022 07:30 [IST]
Last Update: Monday, Jan 10, 2022 02:06 [IST]
Mallika Sherawat, husband spotted at Panitanki border
PRASHANT ACHARYA
BAGDOGRA, : Bollywood actress Mallika Sherawat and her French business tycoon husband Cyrille Auxenfans were spotted at Panitanki on Indo-Nepal border today.
Sherawat and her husband, who were on short tour to Nepal, were returning to India this morning.
Along with other public, both celebrity couple were also asked to walk along the border to enter Indian territory, following all Covid protocols.
Couple were on trip to Darjeeling on January 5 and Mallika had also posted a photo on her social media accounts with a caption "love being in Darjeeling and green all around".
According to the source, the couple had entered Nepal via Pashupati border, travelling hills of Ilam and on Sunday returned via Panitanki Border to board flight from Bagdogra airport.