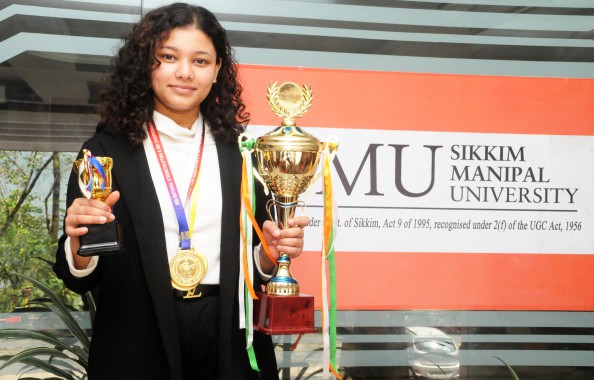 Friday, Apr 02, 2021 08:00 [IST]
Last Update: Friday, Apr 02, 2021 02:26 [IST]
Manipal student Muskan Das wins 'strongest woman of Sikkim' title
GANGTOK,: Muskan Das, a nursing student at Sikkim Manipal College of Nursing, has won the 'strongest woman of Sikkim' title.
The 1st year BSc Nursing student won the title in the recently held 4th Strongest Man & 3rd Strongest Woman of Sikkim Championship 2021, informs a SMU press release.
She also won a gold medal in 63 kg weight category.
Muskan, a resident of 6th Mile Tadong, recently participated in the 30th National Strength Lifting & Inclined Bench Press Championships 2021 held at Cooch Behar, West Bengal where she won gold medals in the junior category events.
Muskan started her weight training from November 2019 and has been training under Yogesh Rai at the Hardcore Himalayan Gym, 6th Mile Tadong.
"The entire SMU family has congratulated Miss Muskan Das for not only bringing laurels to her alma maters but also to the entire State and country. SMU is extremely proud of her achievements and wishes her more success and accolades in the future," the release adds.