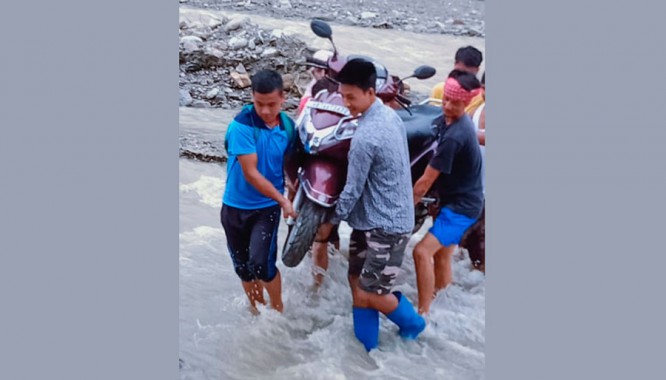 Monday, Aug 03, 2020 12:30 [IST]
Last Update: Monday, Aug 03, 2020 07:01 [IST]
Manjha river on the verge of collapse
PRASHANT ACHARYA
SILIGURI: Several villages under Mirik block of Gorkhaland Territorial Administration (GTA) are under threat of being cut-off as the bridge over Manjha river is on the verge of collapse.
The villagers and tea garden workers of the adjacent villages of Lohagarh tea garden are forced to carry their two-wheelers to cross the river which has changed its course damaging the road.
The only connecting bridge has been left in the middle of the river and may collapse at any moment if protective measures are not taken.
The problem persists since the last several years and engineers from the concerned department visit on several occasions but no concrete action has been taken so far.
On Sunday, locals were seen lifting their two-wheelers to cross the river as it was difficult to ride on the road.
The bridge connects people of Lohagarh, Khapril, Potong, Hilayjhora Manjha with Katharey, Chenga Busty, Panighatta and Bagdogra.
This is a vital road because people here have to take this route to reach the nearest hospital, police station and banks situated at Panighatta.
Several civic volunteers have to cross this bridge to reach their duty everyday by two wheelers and are sometimes stranded on the either side due to heavy flow of water after torrential rainfall.
GTA liaison officer Arun Sigchi recently visited the area and assured people of prompt action to restore the bridge and also the connecting roads which have been washed away by rain water due to lack of proper drainage system. He also assured to repair the road and bridge temporarily so that people don't have to face the trouble.