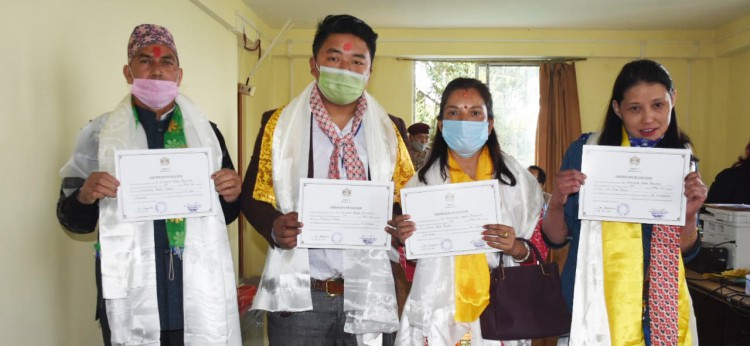 Sunday, Apr 04, 2021 08:45 [IST]
Last Update: Sunday, Apr 04, 2021 03:02 [IST]
Mayor question rise as GMC poll dust settles
GEYZING,: Counting of votes pertaining to Gyalshing Nagar Panchayat was conducted at the conference hall of Emergency Operation Centre, Rabdentse near Geyzing.
The counting process began sharp at 8 am amid tight security in a peaceful environment. The Electronic Voting Machines (EVMs) were taken out at 7:30 am from the strong room in the presence of Election Observer (west) M.T. Sherpa, Municipal Returning Officer (west) Karma R. Bonpo, candidates and counting officers.
After the counting of polled votes, the election results were revealed according to their respective wards:
02-Byadong ward - Praveen Darjee won by 94 votes out of 276.
03- Naya Bazaar ward - Laki Doma Bhutia won by 208 votes out of 526.
04- Central Gyalshing ward - Khina Maya Tewari won by 286 votes out of 835.
05- New Gyalshing ward- Devendra Prasad Sharma won by 284 votes out of 512.
The Certificate of Election was handed over to all the winning candidates through Municipal Returning Officer (west) in the presence of the Election Observer (West) and other officials.
Speaking with media persons, the elected candidates expressed that developmental-based initiatives, working for the wellbeing of the people of their concerned wards and living up to aspirations of voters would be their topmost priorities. Extending their gratitude to voters, the winning candidates termed their win as the victory of the voters and asserted to look after developmental needs and others as promised during election campaign.
"We have been elected to serve people without being biased to any class and community and their political affiliation. We want to serve people in an effective and a sincere way," said the elected Nagar Panchayat councillors.
The winning candidates took out a victory rally in their respective wards with their supporters.