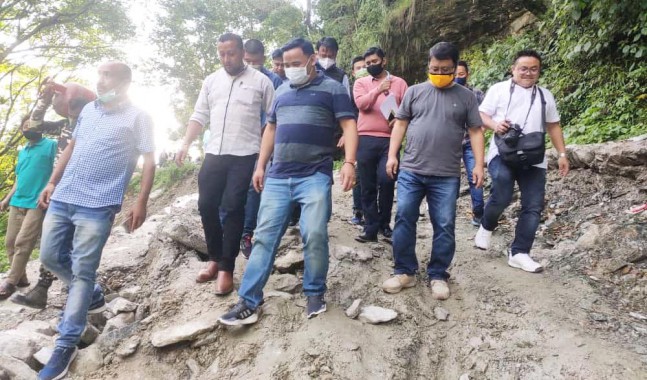 Wednesday, Sep 08, 2021 05:15 [IST]
Last Update: Tuesday, Sep 07, 2021 23:46 [IST]
Minister Bhim Hang directs R&B dept for early restoration of Geyzing-Sakyong road
GEYZING,: PHE minister and Yangthang MLA Bhim Hang Limboo on Monday inspected the damaged stretch of Geyzing-Sakyong road. He was accompanied by the officials from Roads & Bridges department.
The Geyzing-Sakyong road has been blocked near Geyzing due to a landslide triggered by incessant rain of last month.
Since past one month, the road has remained closed snapping road connectivity to nearby rural areas. Roads & Bridges department has initiated restoration work at the damaged stretch but the road connectivity still remains disrupted and deplorable.
Although the damaged stretch of the road, about half a kilometre long, falls under Geyzing-Bermiok constituency, the road serves as a passageway to many rural areas under Yangthang constituency. The people from the affected areas have been demanding early repair of road.
Due to disruption of road connectivity, rural areas falling under Sakyong block have remained cut off since more than a month. The essential goods have to be transhipped to and fro from the damaged stretch of road with the help of porters. The vegetables sellers are adversely affected in the absence of proper transport facility as they have to bear the extra cost of labour to take their stock to the bazaar.
Minister Bhim Hang, after inspecting the status of damaged stretch of the road, directed the concerned department to accelerate the road restoration work. He stated that the damaged stretch of the road should be repaired by utilizing any available option. People must not suffer due to lack of road network, he added.