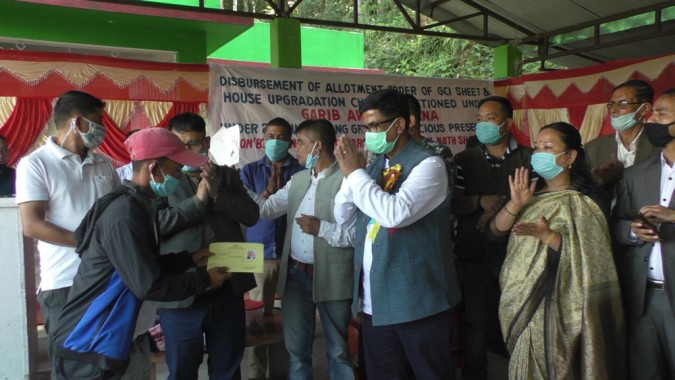 Wednesday, Oct 21, 2020 10:30 [IST]
Last Update: Wednesday, Oct 21, 2020 04:48 [IST]
Minister calls for effective utilization of govt benefits
KUSH HANG LEEWANG
GEYZING: Calling for an effective utilization of benefits provided to the needy people, Agriculture minister Loknath Sharma today appealed the beneficiaries not to sell GCI sheets or other items received from government for little monetary gain. The misuse of government benefits provided to economically backward section would result in failure of the mission of State government being initiated for all-round development of Sikkim, he said.
Addressing two separate benefits distribution programmes at Chinthang GPU and Geyzing Omchung GPU of Geyzing-Bermiok constituency today, minister Sharma, who is also the area MLA, informed that each and every needy family would be added in the public welfare schemes in a phase-wise manner. "Everybody who did not get the government benefits in the first phase will get the same in the next phase. Have patience as the State government will provide benefits to all," he said.
It was informed that in the first phase, 100 families and 400 households in each constituency have been included in the benefits distribution initiative.
Sharma directed the officials involved in benefits distribution to verify the names of the beneficiaries. He added that misspelt names in the allotment orders are creating trouble and confusions among the beneficiaries. Because of negligence of public servants, common people should not face any problems, he added.
On the developmental plans of Chingthang GPU, Sharma maintained that the State government was committed to develop Chingthang as a model GPU and the works to that purpose were being given priorities. He shared that Chingthang GPU offers an excellent environment for ginger and turmeric farming and such farming practices would be introduced in extensive way in the GPU.
He informed that under Sikkim Garib Awas Yojana of the State government, construction of households having modern facilities at the increased cost would be initiated. He expressed that carelessness and corruption in any public welfare schemes would not be tolerated and the defaulters would be dealt in a legal way.
"In house construction, there should be no usage of lower quality materials and adjustment in mixture of cement, stone chips and sands. House construction work must be completed within stipulated time so that needy family may be able to get shelter in time," Sharma said.