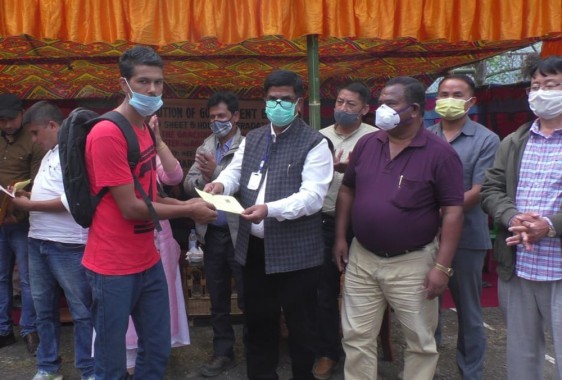 Tuesday, Oct 20, 2020 12:45 [IST]
Last Update: Tuesday, Oct 20, 2020 07:14 [IST]
Minister Sharmahands over allotment orders to beneficiaries
KUSH HANG LEEWANG
GEYZING:Minister and Gyalshing Bermiok MLA Lok Nath Sharma attended the disbursement of allotment orders of GCI sheets, house upgradation and Sikkim Garib Awas Yojana to the beneficiaries of Pechrek Hee Patal, Martam and Bermiok Berthang GPUs in a special programme organised at Hee Martam BAC, west district today.
A total of 100households will be provided State government benefits of Sikkim Garib Awas Yojana, house upgradation cheques for 400 households and GCI sheets for 100 household under Gyalshing Bermiok constituency. The newly sanctioned house under Sikkim Garib Awas Yojana will be constructed at the cost of Rs. 17.50 lakh.
Addressing the gathering, minister Sharma said the distribution of allotment tokens of various beneficial schemes were SKM government's gifts to the economically weaker sections of rural Sikkim. He informed that house upgradation schemes would be initiated in two phases and added that in the first phase, Rs. 20,000 would be given to the beneficiaries and the remainingRs. 30,000 after Diwali. He stressed that the benefits provided to the needy people should not be misused and must reach to needy people.
He shared that the SKM government would fulfil the development-based promises made to the people of Sikkim. He maintained that needy people would be included in the public welfare schemes to improve economical status of the weaker sections.
Calling for a special focus on agricultural sector, the minister expressed that upliftment of economically backward sectionsis possible through agriculture. He shared that SKM government is working towards improvement of marketing facilities of agricultural products in the State. He said Sikkim's main cash crops such as large cardamom, oranges, ginger, Dalley chilli and turmeric could be exported to international markets. He added that the State government would increase the price of cardamom by Rs. 20 per kilogram and similarly the prices of other cash crops would be enhanced.
On the political front, the minister said the opposition parties were trying to malign SKM party with baseless issues. He howeverobserved that criticism that acts as an eye opener for SKM party is welcomed saying that negative criticism encourages the State government to remain more focused on developmental mission of the State.