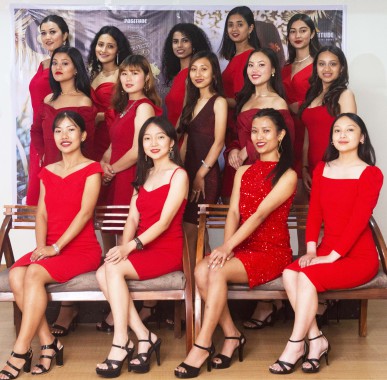 Friday, Apr 02, 2021 08:00 [IST]
Last Update: Friday, Apr 02, 2021 02:22 [IST]
MISS SIKKIM 2021 | 14 GIRLS, ONE CROWN
ISABELLA GURUNG
GANGTOK,: It is that beautiful time of the year again. The eighth edition of Imperfecto Miss Sikkim 2021 along with the second edition of Miss & Mr Teen Sikkim 2021 will take place at Manan Kendra, Gangtok on April 3. Fourteen ladies will compete in the Miss Sikkim contest and 10 girls and eight boys have been shortlisted for the teen contests.
Several beauty pageants are held every year in Gangtok while Imperfecto Miss Sikkim organised by 'Positude' has been a pioneer.
Since 2014, Positude, run by two enterprising youths from Gangtok, has been empowering women and giving them a platform to outshine as an individual, and giving women from all over the State a chance to rise and shine with their remarkable talents in glamour industry.
Ahead of the upcoming Miss Sikkim pageant, Positude proprietor Bijay Subba, CEO Gyurmila Bhutia and rest of the team shares about the journey with TGIF!
"The auditions for the beauty pageants were held in December 2020 at Gangtok and February this year at Namchi. Over hundred boys and girls had turned up for auditions, out of which 14 were shortlisted for Miss Sikkim and 18, including 10 girls and eight boys, for Miss & Mr Teen Sikkim," said Bijay Subba.
Subba said there is no consistent theme for this year. "But keeping the Covid pandemic in mind, the contestants are working in various projects related to sanitization and hygiene with special focus on spreading awareness on Covid-19. We all know that Covid is still here and will stay for a while now."
"We are also taking extra precaution this year. The contestants are not allowed to take off their masks and we are taking extra steps in sanitizing the locations," added Gyurmila.
The contestants are currently staying at Hotel Tara Palace in Nam Nam, Gangtok where they are being groomed by a celebrity fashion stylist and make-up artist from Nagaland, Johnny D'Ascoli and Miss India Northeast 2018 finalist Anisha Chettri.
Johnny who has previously worked in Sikkim thrice as fashion choreographer for beauty pageants expressed the quality of the contestants has been growing here in Sikkim. "The contestants this year weren't perfect at first, but they are strong boys and girls and they really want to learn. Not just appearance-wise, but the contestants are equally talented and intelligent. Even the teen contestants are equally good. After choreographing 100 plus beauty pageants all over, I feel proud to witness the upcoming youth moving forward in the fashion industry," said Johnny.
Johnny has worked in the fashion industry for the past 17 years. He has worked with the Bollywood industry and fashion magazines like VOGUE, Femina, ELLE and Harper's Bazaar as fashion stylist and make-up artist. He has also worked as a runway coach with Delhi Fashion Week (2013-16), Lakme Fashion Week and Wills Fashion Week. He was awarded the best make-up artist from the North East according to an online survey in 2017-18.
The grooming session, event head Anisha said, is being conducted to update the contestants and make them presentable in every aspect.
Due to Covid-19 pandemic, there will be no red carpet event this year. "The grand finale will be held on April 3 and will be judged by Bollywood choreographer Sushma Abhinav Shrivastava, Miss Diva Supranational 2020 Aavriti Choudhary and ATDC director Rinzing Bhutia. The special guest for the day is The Times of India project head Bennett Nathan.
Aavriti will represent India at Miss Supranational 2021, said Gyurmila.
Miss Sikkim red carpet is a signature event of Positude where the contestants are introduced officially. The red carpet event is held before the grand finally at M.G. Marg promenade.
The grand finale will include the introduction, party wear, casual and gown rounds.
"Positude does not give cash prizes to the winners. The top three winners in each category will be presented with crown, sash and gift hampers. The winners will also receive international tour packages from Positude. So far, we have taken our contestants to Dubai and Nepal," said Bijay.
The deserving Miss Sikkim finalists will also get direct entries in Femina Miss India, Miss Northeast and Miss Diva. Similarly, Teen Sikkim finalists will get direct entry in Teen North East, and when they come of age, they will get a direct entry in Miss Sikkim.
For Miss Sikkim, the qualifying age group is 19-26 years, while for Teen Sikkim it is 13-19 years. The youngest participant this year is 15-years -old.
"Positude has always worked hard to bring out the best to represent Sikkim at various national and international level beauty pageants. We are proud to see that all our former winners and contestants are doing well in different genres including films, modelling, entrepreneurship and other professional fields. We have always tried to provide a platform to our youths and are grooming them to make them self-dependent and confident," the Positude team expressed.
Miss India Sikkim 2020 Reetika Chettri is the reigning Miss Sikkim.
MISS TEEN 2021
1). Kushalta Nepal, Gangtok, East Sikkim
2). Kritika Gupta, Singtam, East Sikkim.
3). Banshika Pradhan, Rongli, East Sikkim.
4). Sweta Singh, Namchi, South Sikkim
5). Neha Rai, Ranka, East Sikkim
6). Babyla Ethenpa, Thangka, Martam, East Sikkim.
7). Swarnim Kiran Karki, Tharpu, West Sikkim.
8). Heema Rai, Gangtok, East Sikkim
9). Subrajyoti Timsina, Lingmoo, South Sikkim.
10). Sahana Rai, Gangtok Sikkim
MR TEEN 2021
1). Dechen Lepcha, Namchi, South Sikkim.
2). Karma Hissey Rabden Lepcha , Tashiding, West Sikkim
3). Zimpa Gyatso Sherpa, Gangtok, East Sikkim
4). Kailash Pradhan, Timburbong, West Sikkim.
5). Nhisal Rai, Borong, South Sikkim
6). Sahil Dahal, Ralap, East Sikkim
7). Milind Sharma, Ranka, East Sikkim
8). Shesang Gurung, Sumin, East Sikkim
MISS SIKKIM 2021
1). Monika Rai, Melli-Dara, South Sikkim.
2). Anushika Sharma, Gangtok, East Sikkim.
3). Pranita Chettri, Tashiding, West Sikkim.
4). Priyanka Gajmer, Namthang, South Sikkim.
5). Mayalmit Lepcha, Mangan, North Sikkim.
6). Hangwama Limboo, Gerethang, West Sikkim.
7). Ishmita Gurung, Pakyong, East Sikkim.
8). Tshering Diki Tamang, Namthang, South Sikkim.
9). Divya Chettri, Getting, West Sikkim.
10). Pratiksha Rai, Gangtok, East Sikkim.
11). Neha Sundas, Gangtok, East Sikkim.
12). Kesang Choden Lepcha, Gangtok, East Sikkim.
13). Anjuli Subba, Rangpo, East Sikkim.
14). Manisha Chettri, Jorethang, South Sikkim.