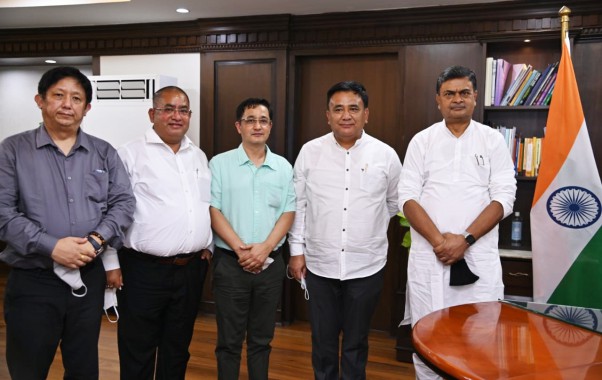 Friday, Sep 10, 2021 05:30 [IST]
Last Update: Friday, Sep 10, 2021 00:01 [IST]
MN Sherpa calls on Union Power minister
GANGTOK,: As desired by Chief Minister P.S. Golay, State Power minister M.N. Sherpa on Wednesday called on Union Power minister R.K. Singh at Delhi. He was accompanied by Power principal chief engineer Ganesh Chettri and chief engineers Bikash Deokota and Jigmey Namgyal, informs a press release.
Sherpa conveyed to the Union Power minister about the efforts made by the State government to ensure smooth and reliable power supply to the consumers and the limitations of the existing infrastructure.
Singh lauded the initiatives being taken by Sikkim under the leadership of Chief Minister P.S. Golay. He assured to provide full assistance and support to the demands placed for the overall and balanced development of power sector in the State of Sikkim.
The Union minister also expressed his desire to make Sikkim a model green State for which necessary directions were given to his ministry officials present during the meeting. He also stressed upon the significance of the reform measures initiated by the Government of India and requested the State to implement it in full spirit, the release mentions.
Sherpa thanked the Union minister and Union government for all their support to the State on behalf of the Chief Minister. He extended invitation to Singh for the inauguration of the newly developed 113 Mw Upper Rongnichu Hydro Electric Project developed on IPP mode, during the last week of October 2021 which he has graciously accepted, the release mentions.