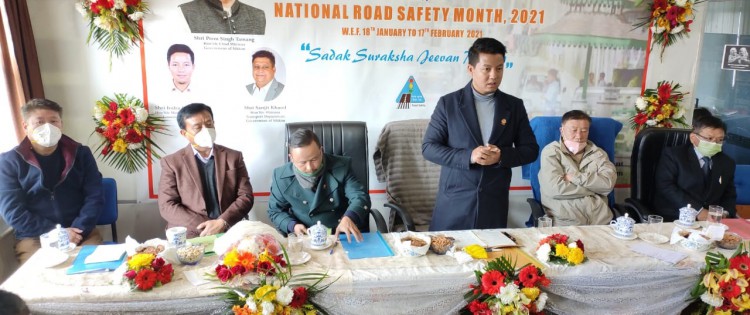 Tuesday, Jan 19, 2021 07:00 [IST]
Last Update: Tuesday, Jan 19, 2021 01:26 [IST]
MP inaugurates month-long Road Safety Month observance
GANGTOK,: Lok Sabha MP Indra Hang Subba along with Transport minister Sanjeet Kharel today inaugurated a month long observation of National Road Safety Month with the theme 'Sadak Suraksha Jeewan Raksha', at the conference hall of Transport department here.
The MP said road safety observation should not be limited to a month but rather carried out thought the year for road safety and protection of lives. The idea of observing the Road Safety Month is to generate road safety awareness amongst all the drivers, he said.
"Annually about 1.5 lakh lives are lost in road accident in our country and many are injured. It is informed that traffic police in Gangtok in past year collected fine to the tune of Rs. 53 lakh even when there was lockdown. We as government want such penalties to come down to zero. Once fines are reduced to zero, we will know that all is good and safe on roads," the MP said.
He called upon the department to involve all drivers, owners and stakeholders in this month long campaign and jointly make this programme a success.
Transport minister Sanjeet Kharel informed that during this programme, there will be a State-wide checking of vehicles. He requested the drivers, owners and stakeholders to keep their vehicles in good condition and documents of vehicles up to date. He called upon all to make the State accident-free and safe.
The programme was also addressed by Transport chairman Basant Tamang and others.