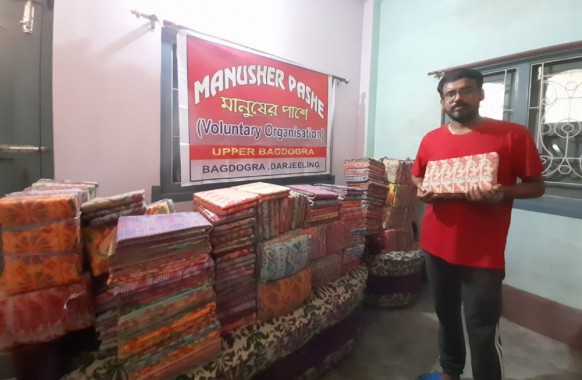 Sunday, Oct 18, 2020 12:30 [IST]
Last Update: Sunday, Oct 18, 2020 06:49 [IST]
NGO to giftSarees to needy women as Puja gift
PRASHANTACHARYA
SILIGURI:A number of social organisations have come forward to help the underprivileged people affected by the lockdown and pandemic but only few continued their activities.
After continuous social work for 142 days distributing food, clothes and other necessary items including felicitation to Covid-19 warriors, ManusherPasheNGO members have now decided to distribute 350 Sarees among women as a Durga Puja gift.
The Jamdani print cotton Sarees have been specially ordered from Shantiniketan for distribution.
In the first distribution programme on October 22, 200 Sarees will be distributed in a function at SaheedSubashThapaManch at Gandhi Memorial High School, Bagdogra. 'Ambulance Dada'Padmashreeaward winner KarimulHaque will be the chief guest of the function where underprivileged women will be distributed 200 Sarees.
PrabirDutta (Jisu), founder of ManusherPashe said, "We have continuously supported needy people during pandemic situation by travelling to various parts of Darjeeling district. The distribution of essential goods was kept at halt after the lockdown was lifted and the situation became normal. During every festive season people wear new clothes and we have decided to provide Sarees so that our mothers and sisters who can't bear the cost to buy new clothes can avail and bring happiness on their faces."
Dutta informed that his friends, relatives and well wishers donated money for buying the Sarees and making the dream come true.