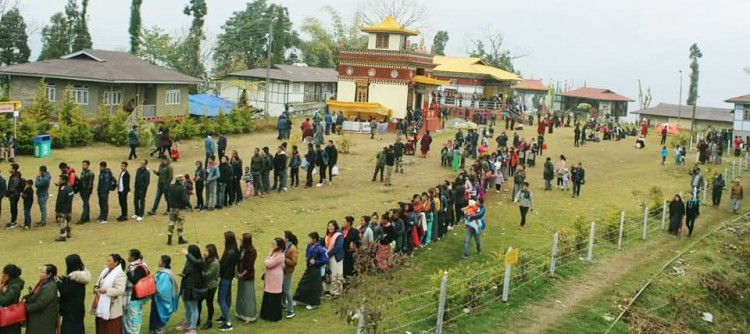 Friday, Feb 26, 2021 07:45 [IST]
Last Update: Friday, Feb 26, 2021 02:07 [IST]
No devotees allowed at Tashiding monastery for Bhum Chu festival
PRITAM LAMA
GEYZING,: Bhum Chu, the annual sacred water ceremony at Tashiding monastery which draws a large number of devotees from within and outside Sikkim, would be observed with a ritual ceremony only this time in view of Covid pandemic. Devotees would not be allowed to attend the ceremony at the monastery, it was informed.
Thousands of people and devotees have been attending the Bhum Chu ceremony and festival at Tashiding monastery, west district, every year. The auspicious ceremony for 2021 falls on February 27.
The monastery management committee informed SIKKIM EXPRESS that Bhum Chu festival 2021 will have a ritual ceremony and simple puja only while devotees would not be allowed entry. The decision was taken after consultations with the west district administration and Ecclesiastical department, it was informed.
"We have decided not to distribute the blessed water this year considering the Covid pandemic and safety of all. Bhum Chu is an international event where thousands of devotees from Sikkim and neighbouring countries of Bhutan and Nepal come to attend. It is not possible to maintain social distancing," said the committee.
The committee further pointed out that some foreign nations and some parts within India are imposing lockdown due to rise in coronavirus cases again. In this scenario, the monastery committee thought it would be appropriate not to celebrate Bhum Chu in the traditional grand manner as it may pose risk to the devotees, said the committee.