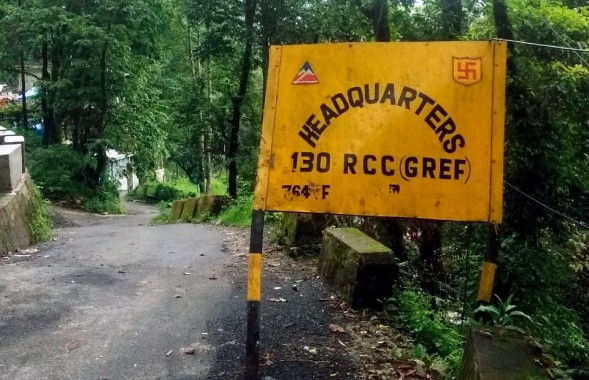 Friday, Jul 10, 2020 12:30 [IST]
Last Update: Friday, Jul 10, 2020 06:50 [IST]
No entry-exit at Rongli GREF camp
KUNAL RAI
GANGTOK: The 130 RCC GREF compound, about half a km away from Rongli main market in East Sikkim, has been put under strict containment by the State authorities after six GREF workers tested Covid-19 positive. It is a containment zone since Wednesday with a complete ban on movement of vehicles and public through the GREF compound.
Altogether the GREF compound which houses the workers along with offices had 47 personnel. Among them, six were found to be infected with coronavirus and have been shifted to the designated Covid-19 centre in STNM hospital, Gangtok. Remaining 41 personnel are presently at the GREF compound, now a containment zone. They would be tested for Covid-19 after seven days.
The GREF comes under Project Swastik of BRO which is engaged in road-widening and maintenance works in some highways of east and north districts of Sikkim.
Local authorities informed that declaring the GREF compound as a containment zone was to prevent any transmission of coronavirus. After the imposition of restrictions, no person of the camp can come out and no outsider is allowed to enter the area.
As reported by the Health department on Wednesday, there was a space designated as a quarantine facility in the GREF compound for workers and personnel coming from outside the State.
The local authorities shared that workers and personnel coming from outside the State were directly placed in this quarantine facility as a precautionary measure. A single unit room was installed using partition board in the hall and the quarantined persons were provided packaged food from the common kitchen. Those coming from outside were not allowed to mix with workers and staff already present in the camp.