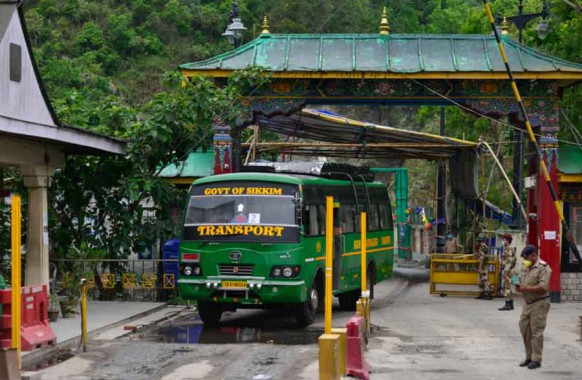 Monday, Jul 06, 2020 13:45 [IST]
Last Update: Monday, Jul 06, 2020 07:50 [IST]
No entry through Melli CP, night curfew in State
SE Report
GANGTOK: Night curfew will be imposed daily from 10 pm to 6 am in Sikkim till July 31. No movement of person and vehicles is to be permitted during the curfew time, as per a State task force meeting held on June 30.
The meeting chaired by Chief Minister P.S. Golay was to review and take decisions for phased reopening of the State as per the Unlock 2.0 guidelines issued by the Centre. It was attended by Education minister K.N. Lepcha, Health minister Dr. M.K. Sharma, chief secretary S.C. Gupta, DGP A. Shankar Rao, Health principal secretary K. Sreenivasulu, secretary (coordination for Covid-19) Rinzing C. Bhutia, Health director general-cum-secretary Dr. Pempa T Bhutia, Transport secretary Raju Basnett and CMO joint secretary Karnitmit Lepcha.
Among the decisions taken, it was decided to close Melli checkpost for entry of returnees keeping in view the onset of monsoon and lesser number of returnees into south and west districts.
Returnees, coming on the basis of e-passes, would not be allowed entry through Melli checkpost from July 6 onwards. All returnees are to enter Sikkim through Rangpo checkpost and would be quarantined in east district itself along with those of north district.
Entry through the checkpost would be allowed only from 9 am to 5 pm.
It was also decided that the returnees would be consolidated in the same hotel instead of being quarantined in various hotels. The next hotel for quarantine is to be used only once the current hotel reaches its maximum capacity keeping in view the better use of resources.
Meanwhile, night curfew is being imposed in Sikkim as per the decision of the State task force. The night curfew is from 10 pm to 6 am daily till July 31. No movement of person and vehicles is to be permitted during the curfew time.
The State task force also allowed entry of domestic helps into Sikkim whereby the returnees have follow the entire quarantine protocol laid down by the Health department. Similarly, labourers and staff required for various ongoing projects can be brought into Sikkim on proper adherence to the Health department guidelines.
The existing regulations like odd-even movement of vehicles with limited passenger capacity and functioning of government offices with 50% capacity remains in place.