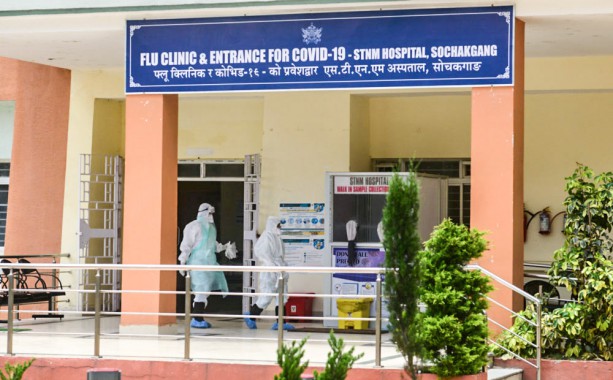 Friday, Sep 25, 2020 10:45 [IST]
Last Update: Friday, Sep 25, 2020 05:09 [IST]
One death, 64 new Covid cases in Sikkim
SE Report
GANGTOK: Sikkim has registered 64 new Covid positive cases and one casualty, as per the Health department on Thursday. The State's active Covid tally is now 607 while the death count is 31, informed the Health department.
The health bulletin informs that 31st Covid casualty came with the passing away of an 82-year-old male person from Jorethang. The patient had been detected with coronavirus in rapid antigen testing on September 16 at Jorethang and brought to STNM hospital Covid care centre. The patient had co-morbidities.
As per the health bulletin, the person was discharged from the hospital "on request" on September 21 and taken to his residence at Jorethang for home quarantine. He passed away today morning and the cremation was done as per the protocols, it was informed.
Among the new Covid positive cases, 59 are from east district, three from south district and one each from south and west districts.
In east district, most of the positive cases have come from different localities of Gangtok. Nine cases were detected from Lumsey which includes Soreng-Chakung MLA Aditya Golay, the son of Chief Minister P.S. Golay and five cases are from VIP Colony area. The other cases are from Daragaon, Tadong, Shyari, Burtuk, Arithang and other neighbourhoods of Gangtok.
Two cases were reported from the GREF camp at Penengla which has been placed under containment.
Two members of the health screening camp at Rangpo have also tested positive for coronavirus. Three cases were reported from Singtam and four cases came from Rangpo.
As per the health bulletin, a 54-year-old male from DPH area and 47-year-old male from Development Area have tested positive but they have given wrong contact numbers.
In south district, the three positive cases are from Namchi bazaar while the one case from west district was from Reshi bazaar.
In north district, DC (North) Tenzing T. Kaleon was found infected with the contagion leading to containment of the new District Administrative Centre and Election building at Pentok, Mangan on Thursday. His official residence at Mangan was also put under containment.
Kaleon shared about him being tested Covid positive in social media on Thursday. I have immediately isolated myself in my official quarter at Mangan and line listing of all the primary contacts has been done, he said.
These contacts have been advised to self- isolate themselves till the testing is done and the results are declared. The District Administrative Centre has been sanitized and contained for 48 hours, informed the DC (North).
Twelve patients were discharged on Wednesday after recovering from coronavirus. So far, 1973 persons have been discharged in the State. The State's total confirmed cases stand at 2611.