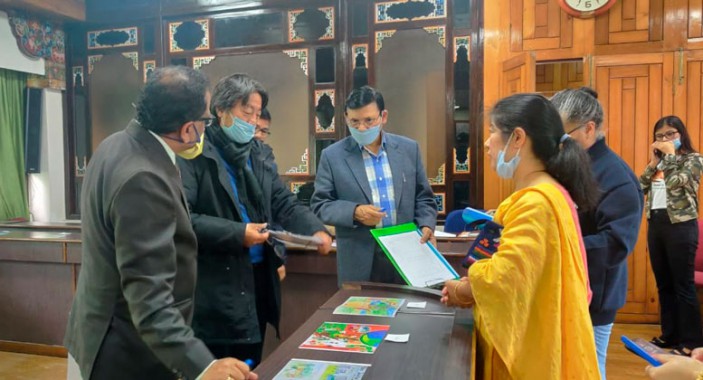 Saturday, May 23, 2020 13:30 [IST]
Last Update: Saturday, May 23, 2020 07:58 [IST]
Online competitions held to mark International Day for Biological Diversity
ISABELLA GURUNG
GANGTOK: With the theme 'Our solutions are in nature', Sikkim Biodiversity Board (SBB) under State Forest & Environment department celebrated International Day for Biological Diversity at the Sidkeong Tulku conference hall of Forest department here today.
The day was attended by Forest minister Karma Loday Bhutia as the chief guest.
"The United Nations celebrates the International Day for Biological Diversity annually. It is marked as an important day because it aims at spreading awareness on various issues related to the biodiversity. Along with the world, Sikkim too celebrates the day with much enthusiasm every year. This year, video messages were circulated via digital and social media and a radio talk was also disseminated through All India Radio," informed Forest principal secretary M.L. Shrivastava.
To involve public participation during Covid-19 pandemic, three online contests with the similar theme were held this year, viz. painting for classes 8-12 and college students, and an open photography contest.
"Keeping in view the global pandemic, we have followed the social distancing norms. The event was an informal one with the chief guest and a jury consisting of senior officials of the department invited in the morning. In the afternoon, only a few members of the department were invited to the photography and painting exhibition of the contest held at the conference hall," said SBB DFO Bhumika Rai.
From all the entries, the best ones were selected for the exhibition. The winners will get cash prizes. In the painting contest for classes 8-12, the top 3 will receive cash prizes of Rs. 10,000, Rs. 7,500 and Rs. 5,000. In the painting contest for college students, the top three will receive cash prizes of Rs. 15,000, Rs. 12,500 and Rs. 10,000, and in the open photography contest, the winners will receive Rs. 20,000, Rs. 15,000 and Rs. 10,000.