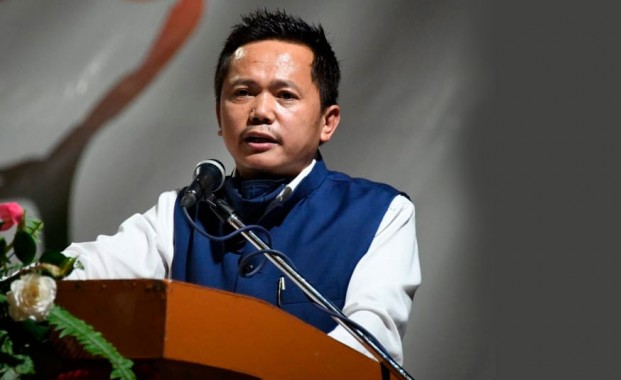 Thursday, Jul 30, 2020 12:30 [IST]
Last Update: Thursday, Jul 30, 2020 07:00 [IST]
Opposition spreading lies to mislead people: Khaling
SE Report
GANGTOK: The ruling Sikkim Krantikari Morcha (SKM) has countered that opposition SDF party and apolitical outfits are misleading people over an alleged remark over the surge in Covid-19 cases in Sikkim made by the Chief Minister.
Stating that Sikkim's model of Covid-19 treatment has been lauded as the best in the entire country by leading experts, SKM spokesperson Jacob Khaling in a video statement today said opposition parties and certain individuals are making unfounded and concocted statements to mislead and instigate the people during this pandemic situation.
"I condemn the rumor mongering and baseless statements and the attempt to politicize a remark that has never been made," said Khaling.
Citing the proceedings of the State Task Force meeting on Covid-19 chaired by Chief Minister P.S. Golay at Samman Bhawan on Monday, Khaling stated that the political parties and some intellectuals misquoted Golay as having blamed the people for the surge in Covid-19 cases in the State.
Khaling said the Chief Minister stressed on the need to consistently follow basic guidelines by everyone and added that the sudden surge of positive cases in the State is due to the gross violation of lockdown norms, despite repeated appeal from the State government. The Chief Minister also directed the police to strictly initiate action against those who are found violating the lockdown guidelines and proper health guidelines should be enforced and implemented.
The SKM spokesperson further maintained that the Chief Minister's remark was based on the fact that some people violated guidelines for social gatherings like funerals leading to spread of coronavirus to a certain extent in Sikkim. The Chief Minister presented the facts to discuss the way forward to contain further spread of Covid-19, added Khaling explaining that the Chief Minister was performing his responsibility and issuing directives for the safety of the people.
"Those spreading canards have run out of issues to abuse the Chief Minister and defame the State government because Sikkim has comparatively done well in Covid management. The State government has mobilized its entire machinery to fight against the pandemic and safeguard the lives of all Sikkimese people. The strength of STNM hospital has been increased in terms of staff and reserved manpower trained," said the SKM spokesperson.