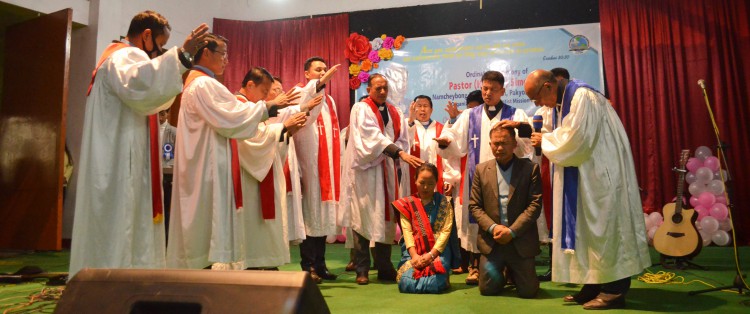 Saturday, Feb 27, 2021 08:00 [IST]
Last Update: Saturday, Feb 27, 2021 02:17 [IST]
Pastor ordination ceremony
AJAY THAMI
PAKYONG,: Kishore Simon Rai of Namcheybong Baptist Church was ordained as pastor in a programme held at Pakyong community hall today in the presence of all the pastors of the Baptist churches of Sikkim, local panchayats, executive members of United Christian Welfare Society of Sikkim and public.
Reverend Joseph Tamang, mission consultant of Sikkim Baptist Mission Board, along with other senior pastors of Baptist churches of Sikkim, administered the ordination ceremony. Pastoral certificate and license from Sikkim Baptist Mission Board and Sikkim government respectively were handed over to newly-ordained pastor.
Reverend Tamang, in his address, appreciated pastor Kishore Simon Rai for his dedication and selfless service towards the church.
Pastor Rai expressed his happiness on being conferred with the pastoral post.