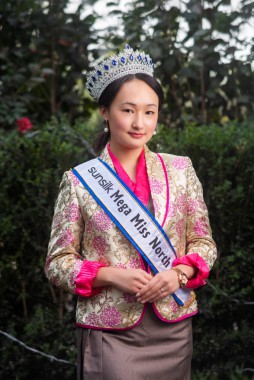 Saturday, Jan 15, 2022 08:00 [IST]
Last Update: Saturday, Jan 15, 2022 02:26 [IST]
PEMA CHODEN BHUTIA | Mega Miss Northeast 2021
ISABELLA GURUNG
A SE feature
Over the years, Sikkimese women have been turning heads by winning various beauty pageants and fashion-based reality shows. Peden Ongmu Namgyal, Manila Pradhan, Eksha Kerung (Subba), Sang Doma Tamang, Rajeswari Chakraborty, to name a few, have accomplished in putting Sikkim on the national and international pageantry map. Adding another jewel to the Sikkim crown, Pema Choden Bhutia is the new 18th Sunsilk Mega Miss North East 2021.
Pema Choden, along with Sanwaka Surong from Meghalaya and Danube Kangjam from Manipur were crowned the title winners of the 18th Sunsilk Mega Miss North East 2021 held at Guwahati on December 29, 2021.
Conceptualised by fashion entrepreneur Abhijit Singha and produced by Mega Entertainment, Mega Miss North East is the biggest beauty pageant of Northeast India.
Pema Choden also won the Radisson Blu Miss Hospitality subtitle. The three winners were awarded with gifts and vouchers worth approximately Rs. 1 lakh from MN Gifting Creation, Fit 7 by M.S. Dhoni, Raju Reyaz Hair Salon, Sai Infrastructure, Sohum and Personal Accidental Insurance worth Rs. 20 lakhs each from Anant Creation Financial Services. Apart from that, they have also won a professional photoshoot by Prashant Brahma Photography, travel opportunities, professional representations and grooming by Mega Entertainment, and opportunities to participate in different socio-cultural activities across Northeast.
The three winners would also get the opportunity to walk the ramp in various regional and national shows.
Born to parents Kenrab Tshering Bhutia and Tshering Doma Bhutia from Sivik Lingdok, East Sikkim, Pema Choden describes herself as 'an outgoing, positive, bubbly and confident' woman. The 20-year-old is an alumnus of Tashi Namgyal Academy, Gangtok and is currently pursuing B.Tech in Civil Engineering from Reva University, Bengaluru.
Bhutia is also the winner of the first Glam Miss Sikkim 2019, organized by Siana Glam World.
In an exclusive interview with TGIF!, the new Mega Miss North East talks about her journey so far.
Winning Moment
Pema: To be honest, it felt unreal and surreal. The moment the crown was placed on my head was when I realized that I had actually won. It was a dream-come-true because Sunsilk Mega Miss Northeast is a platform that helps women evolve, learn and grow. It was a moment of mixed emotions as my parents were overly excited and were jumping around with joy. It bought tears in my eyes to see them so happy and proud of their daughter.
Frankly speaking, I had never imagined that I would be one of the winners of the coveted beauty pageant. There were 50 contestants from the Northeast, among which six of us were from Sikkim. All the girls were beautiful and had their own unique personalities. I pushed myself and focused on myself to give my best performance in the beauty pageant. I told myself that the competition is first with myself and then with others.
About participating in Sunsilk Mega Miss North East
Pema: The auditions for the beauty pageant was actually an offline process but I had requested the organisers for an online audition keeping in mind the travelling expenses just for the audition. The wish was granted and mock interviews were conducted during November, 2021. I also had to send an introduction video and got shortlisted thereafter.
From December, the contestants were given various digital tasks and were marked on those bases. Online sessions were also conducted with the fashion team who groomed us on various aspects like stage presence and communication skills.
The contestants travelled to Guwahati for several days of activities including grooming and training sessions conducted by Mega Entertainment, brand photoshoots and activities, followed by rehearsals, leading up to the grand finale of the pageant.
Before the grand finale, the grooming session was held for three days in Guwahati by Aman Singh Kondilya who is also the proprietor of Pageant Times Instagram handle.
How tough was the competition?
Pema: The competition was actually very tough. My parents had already brought khadas thinking that I would definitely win the competition. When they met the other contestants, they became sceptical as to whether I would actually win the title crown. All the girls were equally talented and gave their 100 per cent. They had unique personalities and most of them had won various state level beauty pageant titles, so they were kind of professionals compared to us. They knew about beauty pageants because they were already well-groomed. In that way, they had more experience.
Bringing Sikkim the crown for the third time
Pema: Meriya Subba was the first beauty from Sikkim to be crowned Sunsilk Mega Miss North East 2016, followed by Rajeswari Chakraborty in 2019. It brings joy to bring home the crown and be their successors because it is not just me who won the crown. Sikkim has won too. During the crowning moment, before they called out my name, it was 'Sikkim' that came first. It obviously makes you feel proud of yourself to bring home the crown.
Toughest competition
Pema: The toughest competition has to be someone who also won the title of Sunsilk Mega Miss North East along with me. Danube Kangjam from Manipur had an aura to do something in the pageantry world. She was one the first contestants that I spoke to and we have become good friends too. We used to motivate each other because we considered each other as sisters before the competition.
From Sikkim, Bandana Rai was also an amazing contestant. She has represented Sikkim and India in various international platforms.
Homecoming
Pema: My parents are extremely supportive of my dreams. Even when I had participated in Miss India, last year, they had already planned a homecoming for me. (laughs!)
When the Mega Miss North East happened, my family actually couldn't resist organising a homecoming for me. My parents jump before I do and are the ones who push me to pursue my dreams. My parents are my number one supporter.
The homecoming was held in January 9 at Burtuk helipad in the presence of Forest minister Karma Loday Bhutia. I had expected around 50 people but there were more than 200 people who came to the venue. I was extremely happy and emotional when I came out of the helicopter. The crowd was chanting 'Sikkim won', which made me even prouder of myself.
Were you always interested in beauty pageants?
Pema: It was my dream to participate in beauty pageants ever since I was a little girl. I used to watch Priyanka Chopra and other celebrities who have made India proud globally in the pageantry world. But witnessing Peden Ongmu Namgyal's journey from being a Sikkim girl to Miss Supranational India to being featured on the digital edition of Cosmopolitan India recently, to her modeling for Sunny Leone's brand is what makes me want to achieve more in life and follow her footsteps. She was my senior in school and her journey motivates me. When Peden won, that was when I pushed myself to follow my dreams.
I had laminated a photo of us that we had taken some time back and I still have it in my room. She is my inspiration and her achievements make me want to keep going.
Peden Ongmu is a simple, grounded, yet an elegant woman.
Glam Miss Sikkim journey
Pema: When I participated in Glam Miss Sikkim organized by Siana Glam World I had little knowledge about beauty pageants. I had zero knowledge about make-up and things related to beauty pageants. In Glam Miss Sikkim, we had a national director Amjad who groomed us beautifully and professionally. We were groomed for our inner beauty and that was something that kept me going. It also helped me in Mega Miss North East.
Femina Miss India journey
Pema: I was among the top 5 finalists from Sikkim in Femina Miss India auditions last year. When I could not make it to top 1 in India's biggest beauty pageant, it motivated me to work harder to bring out the better version of myself. That was inspired me to participate in Mega Miss North East this year.
To be honest, I have a dream of representing Sikkim in Femina Miss India and I will surely pursue it in future.
I am glad I was part of it. I have learnt so much from all the three beauty pageants that I have been a part of. Miss India is definitely the toughest, compared to the three beauty pageants. What made Mega Miss North East different from Glam Miss Sikkim was that we were groomed differently. In Mega Miss North East we didn't even realize that we were being groomed but in Glam Miss Sikkim, we had a fixed routine where we were groomed for about 13-14 days.
Responsibilities with the crown in your head
Pema: All the three Mega Miss North East winners, and the three male winners of Garnier Mega Mister North East have a plan to visit rural areas of different States in India and spread awareness about beauty pageants as some do not have any idea about it. We want to bring about positive change towards beauty pageants.
As the reigning Glam Miss Sikkim, I had adopted a village that is my village Sivik Lingdok where there was no waste management. I spoke about waste management there, and because of the project the GMC has a fully organized a garbage pickup here.
I am also focused about climate change, which is something important.
Five qualities a woman should have
Pema: A woman should be confident, outgoing, kind, humble and grounded.
What next
Pema: I will surely continue and focus on my studies, which is an important part of any individual. I want to represent Sikkim in Miss India but it is just a plan and we never know what might happen in future. I also have a vision to do something in pageants.
I am a dreamer so I dream of winning Miss World and also working for the underprivileged students as Miss World.