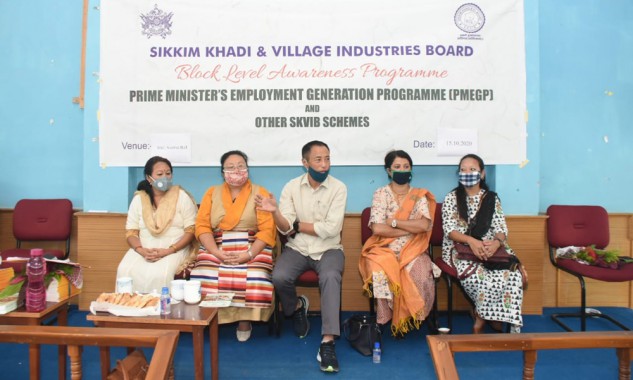 Friday, Oct 16, 2020 11:15 [IST]
Last Update: Friday, Oct 16, 2020 05:36 [IST]
PMEGP awareness by State Khadi Board at Sumbuk
SE Report
GANGTOK: A block-level awareness programmeon Prime Minister's Employment Generation Programme (PMEGP)was organised by Sikkim Khadi & Village Industries Board (SKVIB) at Sumbuk, south district today.
SKVIB chairperson Chung Chung Bhutia was the chief guest of the programme also attended bySumbuk BDO KiranThatal, Sumbukpanchayat presidentRadha Sharma, resource persons, panchayat members of various GPUs and entrepreneurs of the locality, an IPR release from Namchi informs.
Addressing the gathering, the chief guest spoke about the importance of the board and underlined that SKVIB is working to link the masses especially from rural areas to various schemes available with the board. She gave an overview regarding the schemes and added that it is the vision of the Chief Minister to connect the youths particularly entrepreneurs with SKVIB and provide them with opportunities wherein they can explore their innovative ideas thereby making the youths self-reliant.
The chairperson also assured that the board will extend necessary assistance for theentrepreneurs.
KVIB CEO and resource person GyurmiYousal spoke in detail about PMEGP which he said is a credit linkage subsidy with the objective for establishing of micro enterprises which will be tiny hubs of employment. He further informed that these enterprises can be in the form of factories, production units, trade, shops and service sectors in rural as well as in urban areas.
In Sikkim, this scheme is being implemented via SKVIB and the government subsidy under this scheme will be routed through identified banks for distribution to the beneficiaries, said the resource person.
The resource person elucidated that there are two kinds of assistance under this scheme - one is manufacturing sector and the other one is business or service sector of which the unit admissible is Rs. 25 lakh and Rs. 10 lakh respectively.
Yousal also mentioned that in Sikkim currently, service sector project is booming and industries such as pickle making, bakery, tissue paper and mineral water manufacturing units are on the rise. He notified that due to the pandemic, the application can be submitted via online mode alongwith the detailed project report.
Similarly, resource person Shiva Prasad Sharma spoke in brief about apiculture which can be promoted in Sumbuk area. He characterized the benefits of apiculture in Sikkim and urged the attendees to practice basic traditional beekeeping techniques and methods as beekeeping helps in proper functioning of ecosystem and can be a source of rural livelihoods. He also cited examples of successful beekeepers from Melli and urged the entrepreneurs to follow them.
Sumbuk BDO KiranThatal outlined regarding the awareness programme and encouraged the gathering to utilize the schemes provided by SKVIB as these schemes has the potential to attract the younger generation to the Khadi sector for livelihood opportunities, the IPR release mentions.