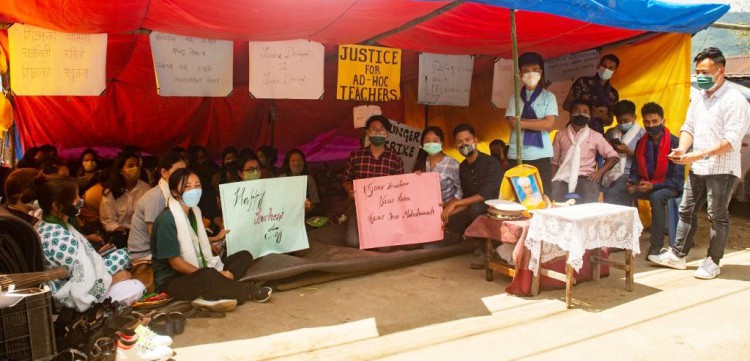 Tuesday, Sep 07, 2021 06:00 [IST]
Last Update: Tuesday, Sep 07, 2021 00:17 [IST]
Protest and hunger strike to continue: Adhoc teachers
DICHEN ONGMU
GANGTOK,: Adhoc teachers sitting on the dharna and hunger strike here near East DAC complex, Sichey rejected the statements made by the Education officials on Monday. They also declared to continue with their protest and hunger strike till their demands are met by the department.
Speaking to media, the adhoc teachers maintained that the Education officials attempted to overshadow their demands by highlighting the changed policy in recruitment of adhoc teachers.
"We are and were aware about the change in the policy, which is why we agreed to wait and sit for the interview entirely relying on their verbal assurances given in July. Had we known they would deny the commitment made, we would have continued with our protest since then", said a teacher on a hunger strike.
Another adhoc teacher questioned the credibility of the Education additional chief secretary.
"The Education additional chief secretary is taking this issue lightly and failed to address it at the right time. He has breached our trust by not sticking to his words. He isn't worthy of being in the post therefore we unanimously demand his resignation and an apology to us for making us witness such terrible times. He has not only disrespected us but also our noble profession", said adhoc teachers.
Regarding the request made by the Education minister in the press meet, one of the adhoc teachers said: "Lives of our colleagues are at stake today who are undergoing hunger strike for our cause. Therefore we are ready to risk this golden opportunity and announce to continue with our protest".
The department should stop misleading the government by their bogus policies and plans, the Government and the Sikkimese society should take a firm stand for the better future of Sikkim, they said.
Meanwhile, a medical team from the Health department visited the ad-hoc teachers protest site to check the health status of the five teachers undertaking the indefinite hunger strike.