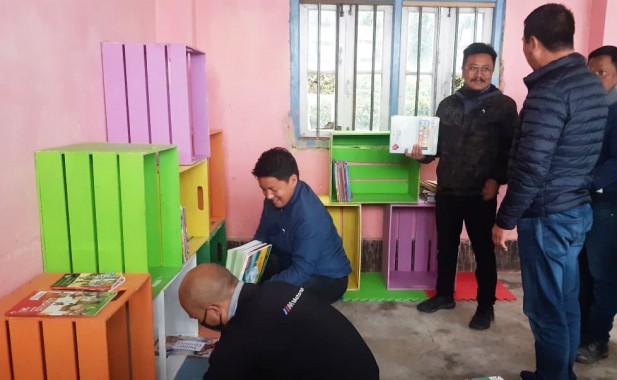 Thursday, Mar 04, 2021 07:15 [IST]
Last Update: Thursday, Mar 04, 2021 01:43 [IST]
Read & Grow campaign reaches Dhuppi Dara JHS
GANGTOK,: After remote Pentong school in Upper Dzongu of north district, the SKM students wing has established a reading corner in another far-flung school, this time in West Sikkim.
A press release informs that the SKM students wing as per its 'read and grow' campaign installed the reading corner at Dhuppi Dara junior high school under Dhuppi-Narkhola GPU, Yuksam-Tashiding constituency on March 1.
Chief Minister P.S. Golay, during his first day tour of Yuksam-Tashiding, also visited the reading corner at the Dhuppi Dara junior high school. He applauded the effort and advised the SKM students wing to continue with its noble work, the release mentions.
The SKM students wing had collected the books through donations during the book fair organised at M.G. Marg, Gangtok from February 12 to 14. The donated books are being reached to government schools of remote areas of Sikkim.
The SKM students wing is establishing reading corners for such schools to encourage and support the students of faraway areas and it is undertaken as per the direction of the Chief Minister, said the frontal organisation.
Lok Sabha MP Indra Hang Subba is the chief coordinator of the SKM students wing with MLA Aditya Golay as the coordinator, Culture department advisor Bhim Kumari Sharma as vice president and Sonam Choppel Sherpa as president.
The other office bearers include general secretary Kavita Sapkota, general secretary Tshering Wangchuk Lepcha, joint secretary Nosang Limboo, convener Basant Khanal, convener Tirtha Sharma and secretary Prerna Darnal.
"We aim to spread the importance of reading and generate reading culture among the young minds of Sikkim. We also aim to spread a positive message among the Sikkimese society that it is a prime responsibility of a political party to contribute in such an important subject like education," said the SKM students wing.