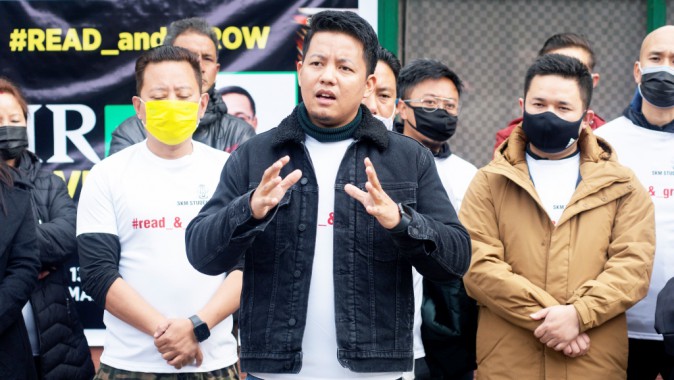 Thursday, Jan 14, 2021 07:45 [IST]
Last Update: Thursday, Jan 14, 2021 02:06 [IST]
'Read & Grow' initiative launched to promote reading culture in Sikkim
BIJOY GURUNG
SKM Students Wing to collect books, install reading corners in villages
GANGTOK,: Reading expands the mind. But first, we need to properly position the mind to start reading.
As technology shrinks further, more and more minds in their infancy are driven away from books towards a 5-inch smartphone screen. Growing up further stretches the distance between a Tintin comic and Talking Tom virtual pet app for a kid unless a timely intervention is made as witnessed on Wednesday.
"Read and Grow", says the SKM Students' Wing and Sikkim Vidyarti Morcha (SVM) as the two organisations launched a campaign to inculcate reading habit among people of all age groups, especially the students and youth in Sikkim.
We want to provide reading materials and a platform for all students and youth to read and that's why we have given this campaign the hashtag of #READ_and_GROW, said Lok Sabha MP Indra Hang Subba while launching the initiative here at M.G. Marg.
The aim is to collect books through a donation drive across the State. The books collected would be placed in reading corners and libraries to be installed by the two organisations in different rural areas.
Soreng-Chakung MLA Aditya Golay, who attended the launching programme, pointed out that children today are more attached with their smartphones than books.
"Children are more focussed on mobile games and tablets. That is also good because they are learning new technologies but along with that, I feel children are going away from the reading habit which could have been inculcated in their curriculum and upbringing as well. To demonstrate that reading is also very important for the overall development of a child and is a part of education, we have launched this initiative," said Aditya.
Indra Hang observed that children should be encouraged towards reading through illustrative books and comics.
"This campaign is not just limited to children only…everyone who is interested in reading is included. As far as reading materials for children is concerned, if we don't get that kind of materials during the donation drive then our SKM students' wing will be getting those materials from wherever possible. We are also requesting some of the NGOs to donate their particular kind of books so that we can take it to the children."
Indra Hang said people are also contributing monetary support to the initiative. "During the book collection drive, we may not get all the books that we require. We will use the collected amount to purchase those required books and reading materials," he said.
Meanwhile, the Soreng-Chakung MLA mentioned that SKM Students' Wing and SVM are not competing with any other organisations in the particular initiative.
"We are not competing with any other organisations. This is a very good initiative and can be taken up by any other organisation, political party or group. We are trying to promote reading habit among children," said Aditya.
Focus to set up reading corners and libraries would be given to remote areas of the State where the students and youth do not have access to reading materials, informed the organisers. They would be starting with Pentong, a remote settlement in Upper Dzongu where a reading corner would be installed at Pentong government school on January 20.
"First we are going to Dzongu and then have a meeting to decide on the next location. Eventually we are planning to make a small reading corner or library in each and every far flung area of Sikkim," said Aditya.
The drive will culminate in a three-day book fair at M.G. Marg here in the second week of February bringing together publishers and writers along with literary events. Literature of local indigenous communities of Sikkim would also be showcased and promoted during the fair starting on February 12.
"We will be providing stalls to the literature of the indigenous languages of the State and display such literature to the public through the concerned associations. We will invite the litterateurs of local languages for an interaction with the publishers so the literary works of our local writers are promoted. We will also try to buy books authored by our local writers of different languages and include that in the reading corners and libraries as well", said the Lok Sabha MP.
To a question, Indra Hang, himself a research scholar, observed that reading culture is in an unfortunate condition in Sikkim at present which is evidenced by the gradual decline in the number of bookstores in the State capital. Among the 4-5 bookstores here, only a couple of them have books that cater to the youngsters.
"Some intervention is needed to develop a reading culture among the masses of Sikkim. We have started this initiative towards this end and it will be a calendar event to be held annually. The 'Read and Grow' campaign may not give an immediate result but down the years, it will make a difference because we are reaching out to the grassroots level," said the MP.