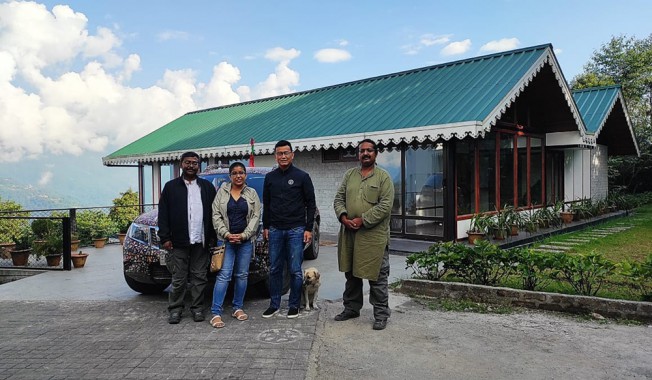 Wednesday, Oct 21, 2020 10:30 [IST]
Last Update: Wednesday, Oct 21, 2020 04:46 [IST]
Road Ashram initiative to help Covid-hit people reaches Sikkim
ISABELLA GURUNG
GANGTOK: Road Ashram, a humanitarian initiative of trio Siddhartha Dutta (Kolkata), AhmerSiddiqui (Delhi) and NehaChaturvedi (Agra) to spread awareness and raise funds for the people affected by the ongoingCovid-19 pandemic reached Gangtok on Monday evening.
In their journey along the borders of India to get an insight into the humanitarian impact of Covid-19, the trio has been travelling in a specially modified four-wheeler, covering nearly 25,000 kms and 30 States. The campaign commenced on October 4 from Delhi and their goal is to complete the campaign within 60 days.
"Road Ashram is our individual initiative to bring attention to the different stories of people from different States, and how the lockdown affected them. Some of us were privileged enough to enjoy the lockdown as a paid holiday, but the majority faced various issues and some didn't even have food on their table. Amidst the medical crisis, Covid has caused damage, as many lost their jobs, the education system has been affected, increased poverty, malnutrition, amongst others. This humanitarian crisis will take a longer time and collective will to resolve back to normal," expressed Siddhartha.
"The idea is to stay on the road, in our very own, personally crafted car 'Road Ashram'. Through this campaign, we aim at raising awareness and resources to help people in crisis. Alongside, we will also be sharing videos and stories of India's diverse cultures, places and everything that makes India a diverse, colourful and a fascinating country," said Ahmer.
The trio has so far travelled along the China and Nepal borders, with halts in Gangotri, Uttarakhand, Kolkata and Siliguri. They reached Gangtok on Monday evening, where they met with Indian football legend Bhaichung Bhutia at his residence in Pangthang, near Gangtok. Team Road Ashram has already covered 6,000 kms, so far.
"We met with Bhaichung Bhutia today at his residence, and it was a wonderful experience. He also introduced us to his children, who too were amazed and happy to see us. We had some interesting conversation with the footballer," the team shared.
In Sikkim too, they intend on engaging with people and discussing the humanitarian impact of Covid-19 and the restrictions imposed because of social distancing.
From Sikkim, the trio will head towards the other Northeastern States, then head back to Siliguri, from where they will go to the south of Bengal and later to South India, Maharashtra, Gujarat, Himachal Pradesh and back to Gangotri and Delhi.
"During our journey, we have met several people from different walks of life, and meeting new people is always interesting. Also, we heard different stories and different experiences from them. We also met some migrant workers in Bihar, who shared with us their stories. We are inspired to hear stories from so many people," said Ahmer.
"The response from people has been amazing and most people are excited to see our car. We can proudly say that we have made at least 1000 people smile during this crisis. Also a lot of people offer us help in whatever means they can, be it a simple gesture," added Neha.
The trio aims on collaborating with non-profit organisations from various regions for immediate food relief. Road Ashram will mostly focus on the marginalized and rural areas.