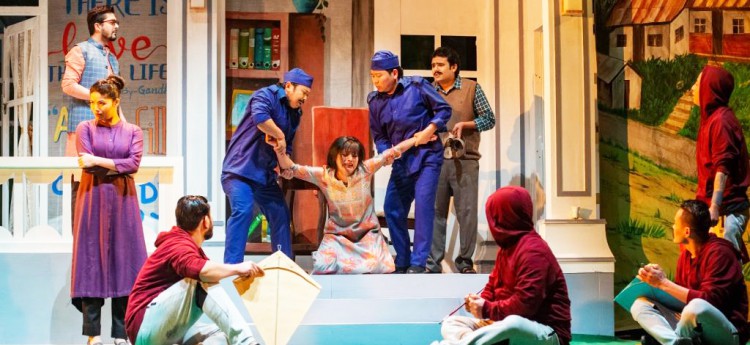 Monday, Mar 08, 2021 07:30 [IST]
Last Update: Monday, Mar 08, 2021 01:59 [IST]
'Safed Lakeer' unveiled at Manan Kendra
ISABELLA GURUNG
Sikkim NSD actors enact play on drug abuse
GANGTOK,: National School of Drama (NSD), Sikkim Repertory Company's latest play 'Safed Lakeer', a journey based on a research work on drug abuse is being enacted at Manan Kendra here on March 7 and 8.
The play has been directed, designed and concept by NSD Sikkim Theatre Training Centre (STTC) director Bipin Kumar.
Lyricist and scenarist is Devendra Ahirwar and music designer is Subhadeep Guha, lighting designer is Himanshu B. Joshi, costume designer is Anil Kr. Manger, props was designed by Buddhiman Rai, production controller is Ranjana Mangar and Goge Bam is the assistant director.
The inaugural show was graced by Culture minister Samdup Lepcha.
Briefly highlighting on the establishment of NSD Gangtok, the Culture minister congratulated the entire team of NSD for bringing the play to the audience based on a sensitive issue as drug abuse. He also mentioned that the new institute of NSD STTC is being constructed at Assam Lingzey, near Gangtok.
The foundation stone was laid by Chief Minister P.S. Golay last month.
Lepcha expressed that the training centre, along with training theatre lovers, will also provide employment opportunities to the locals.
"A combination of facts and imagination, the play is based on the research work done by repertory artists on drug abusers and their rehabilitation facilities," informed director Bipin Kumar.
The play has various characters that have their own stories that are slowly revealed. The fight and conflict of their past, present and themselves and taking their stories forward in the play, Kumar added.
The evening was also attended by Chief Minister's secretary S.D. Dhakal, additional advocate general Dr. Doma T. Bhutia, Culture advisor Bhim Kumari Sharma, among others.