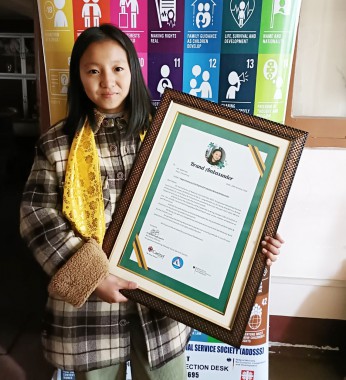 Tuesday, Jan 25, 2022 08:15 [IST]
Last Update: Tuesday, Jan 25, 2022 02:36 [IST]
Sakshi Rai appointed child rights ambassador for Darjeeling, K'pong and Sikkim
PRASHANT ACHARYA
SILIGURI,: On the occasion of National Girl Child Day, Anugyalaya Darjeeling Diocese Social Service Society with support from Caritas India organised various events today.
One of the events was launching of a brand ambassador for child rights and protection for Darjeeling, Kalimpong and Sikkim.
Sakshi Rai, vice president of National Inclusive Children's Parliament and member of Navodaya Children's Club of Nagari Tea Estate, Pokhriabong, Darjeeling, was selected as the brand ambassador for the year 2022-23.
She was also felicitated for her child-led advocacy for the children of Kalimpong. She had also advocated at national level in child rights violation cases. She is seen as exemplary leader by her companions and children. Shakshi was also nominated for International Children's Peace Prize.
As part of her role, she will be visiting various places across the project areas, motivating other children and teaching them on advocacy and leadership skills.
Other girl children were also invited today and their contribution was acknowledged.