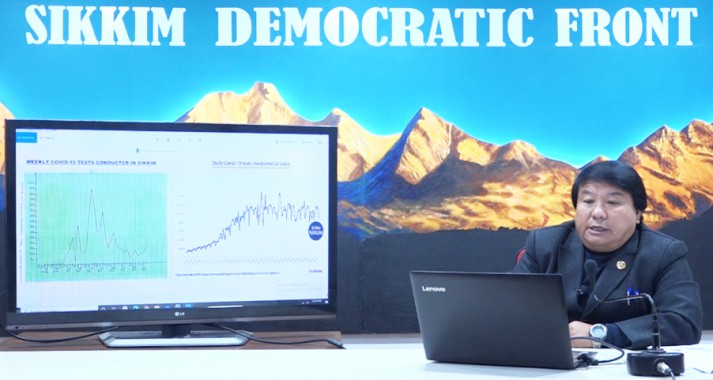 Thursday, Jan 14, 2021 07:30 [IST]
Last Update: Thursday, Jan 14, 2021 01:58 [IST]
SDF to send Sikkim Covid management lapses report to Centre
GANGTOK,: SDF chief spokesperson M.K. Subba on Wednesday alleged several shortcomings in the Covid pandemic management by the SKM government. He was addressing a video press conference at SDF Bhawan, informs a SDF release.
As per the release, Subba reminded that the SDF had in March 2020 advised the State government to implement all the SOPs, especially in the medical front preparedness like the establishment of Sikkim's own Covid laboratory testing facilities and dedicated Covid hospital and also to designate the non-Covid hospital and other allied facilities in Sikkim. He contended the Sikkim government failed to implement such binding guidelines and SOPs on time due to which the spread of Covid-19 reached alarming level and claimed the lives of 129 people in Sikkim till date.
It was only after immense public pressure that the State government set up the Covid testing lab which started functioning from May 29, said Subba. The government failed to add more centres and Sikkim with just three test labs is behind all States and three UTs, he said.
Clearly the Government of Sikkim lagged in the planning in containment of the virus because as late as December, Sikkim recorded 217 Covid positive cases in Central Jail, Rongyek and 18 cases in district jail, Namchi both at the community level of transmission, said the SDF spokesperson.
"As far as the fatality rate/death rate is concerned, Sikkim recorded as high as 37 deaths in the month of November and 34 deaths in September and 35 deaths in October totalling to 127 deaths by end of December and infamously ranked 3rd in the overall mortality rate of India, just behind Punjab (3.2%), Maharashtra (2.6%), Sikkim (2.2%)," said Subba.
The only saving grace being the recovery rate currently above 90% and active rate just below 10% somewhat saves the face of Sikkim, said the SDF spokesperson.
With respect to the vaccination drive likely to commence, the State should adhere to the laid down guidelines of the Ministry of Health namely 'The Covid-19 Vaccine operational guidelines' and 'The Covid-19 Communication Strategy' so that all the various sections of the people of Sikkim are inoculated with the eagerly awaited Covid-19 vaccine on time, said Subba.
The SDF spokesperson added that a comprehensive report of the Covid-19 management lapses in Sikkim would be sent to the Government of India, the SDF release mentions.