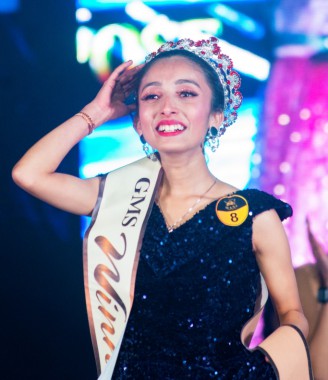 Thursday, Jan 28, 2021 07:45 [IST]
Last Update: Thursday, Jan 28, 2021 02:11 [IST]
SE Talk with Miss Teen Sikkim 2021 Tejeshvi Sharma
Will work for sensitizing people on mental health'
GANGTOK,: Newly crowned Glam Miss Teen Sikkim 2021 Tejeshvi Sharma from Rhenock, East Sikkim talked about her hobbies, interest and her journey throughout the pageant in an exclusive interview with SIKKIM EXPRESS.
Tejeshvi Sharma floored the judges with her intelligence and talent to win the coveted Glam Miss Teen Sikkim crown.
The pageant was organised by Sikkim Siana Glam World and the finale was held at Manan Kendra here recently.
Born to parents Chandra Kanta Sharma and Nirmala Sharma, the 15-year-old Tejeshvi Sharma is a class 10 student at Tarpin secondary school.
WINNING MOMENT
Tejeshvi: When the crown was placed on my head, all I could feel was bliss. The moment felt magical and I was very emotional. I couldn't control my emotions when I saw my family from over the stage. They too were emotional at the crowning moment. I wanted to hug my parents as it had been weeks since I last saw them.
JOURNEY SO FAR
Tejeshvi: The journey of Glam Miss Teen Sikkim has been an amazing one. The competition was very tough as all the contestants were equally good and deserving. All of us were gracefully devoted to the challenges and it was a healthy competition. All the contestants gave their 100 per cent. What made me win is that I have always been hardworking, confident and don't easily get distracted.
I was interested in beauty pageants since I was a kid, but me participating in Glam Miss Teen Sikkim was so sudden. I hadn't prepared much, but I had basic knowledge about how they work. It was my father and my sister who applied for the audition of Glam Miss Teen Sikkim. It was them who made the moment precious for me.
RESPONSE FROM FAMILY AND FRIENDS
Tejeshvi: My family and friends have been supportive throughout. They were immensely happy and grateful to God for my achievement. Representing Rhenock and winning the crown is a proud moment for my hometown.
INSPIRATION
Tejeshvi: My parents are my biggest role models. They have always taken care of me and are my greatest teachers. I am what I am only because of them.
INTEREST IN GLAMOUR
Tejeshvi: Yes, I have been interested in beauty pageants and fashion. I used to watch various shows, and I still do. I believe fashion is all about knowing yourself more.
IN NEXT FIVE YEARS
Tejeshvi: I want to pursue my higher education. I see myself as a successful human being and a helping hand to the society.
CAUSES SHE WANTS TO TAKE UP
Tejeshvi: I want people to understand the importance of mental health. Mental health is considered a taboo and people discriminate and tease those who suffer from mental health, instead of communicating with them and helping them grow.
I also support social causes, environment conservation and organic farming. I will definitely work on them too.
WHAT NEXT?
Tejeshvi: I do not know what the future holds for me, but I will definitely try to represent my State in national level beauty pageants.