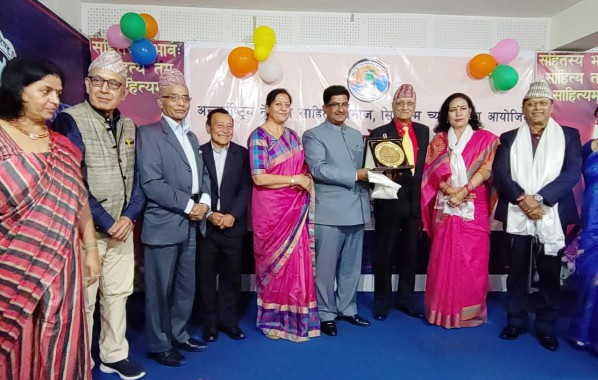 Thursday, May 26, 2022 07:00 [IST]
Last Update: Thursday, May 26, 2022 01:28 [IST]
Seminar on 'globalisation of Nepali literature'
GANGTOK,: The International Nepali Literary Society, Sikkim chapter on Wednesday held a seminar on 'globalisation of Nepali literature' at Nepali Sahitya Parishad Sikkim bhawan here at Development Area.
Agriculture & IPR minister L.N. Sharma was the chief guest for the seminar also attended by International Nepali Literary Society vice president Pragya Baba Basnet and society advisor Radhey Shyam Lekhali as guests of honour, both from Kathmandu. Presidents and representatives of various literary, music and other associations, litterateurs and students also attended the seminar.
In his inaugural address, minister L.N. Sharma congratulated the organisers and lauded their efforts for promotion and development of Nepal literature. The initiative is laudable as there is a need to globalize and revitalise Nepali literature, he said. He mentioned that the Sikkim government is also putting efforts for development of Nepali languages and other local languages.
The minister also stressed the importance of learning different languages parallel to upholding the dignity of the mother tongue by all communities.
Speaking on the occasion, International Nepali Literary Society, Sikkim chapter president C.P. Giri pointed out that while languages like English, Russian, French, Urdu and others have achieved the globalization status, the same cannot be said for Nepali literary works in global context. The topic for discussions today was selected after consultation with various organisations in the State engaged in the literary field, he said.
Three papers were presented today during the seminar by eminent literary figures Dr. Rajkumari Dahal, Dr. Tek Bahadur Chettri and Prof. Rudra Poudyal.
Giri mentioned that the seminar will definitely help the stakeholders to understand many new things and avail further opportunity for growth of Nepali literature in days to come.
Earlier, Sikkim University professor Pushpa Sharma presented a keynote address on the 'globalization of Nepali literature'.