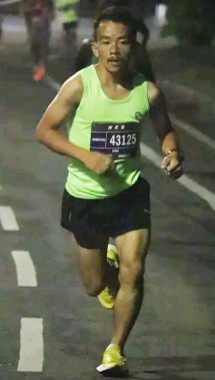 Saturday, Aug 13, 2022 08:30 [IST]
Last Update: Saturday, Aug 13, 2022 02:56 [IST]
Shiva Hang Limboo wins Pune full marathon, Buddha Singh Limboo finishes third in barefoot short run
KUSH HANG LEEWANG
GEYZING, : Marathoners Shiva Hang Limboo and Buddha Singh Limboo returned home Friday after their successful stint at the recently-concluded Pune Marathon organised a Pune-based Non Entertainment Business (NED).
Shiva Hang Limboo won the men's full marathon, clocking 3 hours and 8 minutes, while Buddha Singh Limboo finished third in the barefoot short run of 10 kilometre in 38 minutes.
Speaking to mediaperson in Geyzing today, the duo expressed their happiness over their accomplishment at Pune Marathon and dedicated their success to their coach and trainer Amar Subba and people with whose support they were able to participate in the marathon.
Shiva Hang Limboo stated that he is happy with his improved performance in the run and expressed that finishing first in the run has encouraged him to work harder. Buddha Singh Limboo said that his quest for a better performance next would be on and that is only possible through rigorous practice. We will try our level best to bring about necessary improvement for our future tour, they said.
They also expressed hope that more youth from Sikkim take up marathon in the coming days.
Amar Subba expressed his happiness over his students' successful stint at Pune.