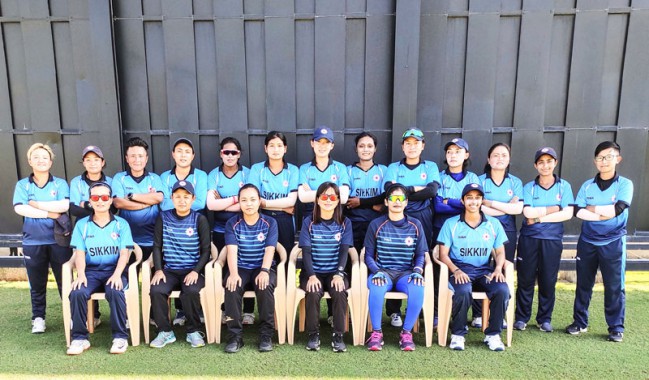 Friday, Mar 13, 2020 11:15 [IST]
Last Update: Friday, Mar 13, 2020 05:38 [IST]
Sikkim defeat Arunachal Pradesh in women's one-day competition
SE Report
GANGTOK: Sikkim defeated Arunachal Pradesh by 79 runs in senior women's one day trophy at Siechem Stadium, Puducherry today.
Batting first, Sikkim scored 202 runs in 50 overs loosing five wickets. Captain Ananya Upendran and wicket keeper-batswoman Tshering Ongmu Lepcha gave a good start scoring 52 runs for first wicket. Ananya (42 runs), Subhi Pandey (43 not out) and Archana Das (40) were the top scores. Pebi Gara of Arunachal Pradesh took three wickets.
Defending a moderate total, Subhi Pandey sent Arunachal opener Joyti Yadav to the pavilion early to provided Sikkim a good start. However it wasn't until Tabita Subba claimed the prized wicket of Neelam Rajput, who was at her 50s, Sikkim got hold of the game.
Munnu Hangma Limboo took three wickets in the match, Tabita Subba grabbed two, and Dichen Ongmu Lepcha, Shristi Rai and Subhi Pandey took a wicket each as Arunachal Pradesh were bundled out for 123 runs in 40.3 overs.