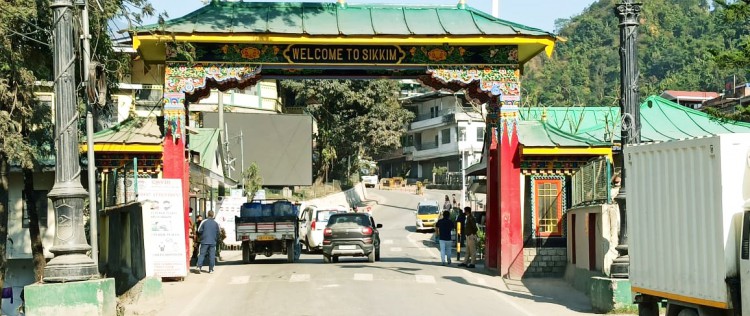 Monday, Jan 10, 2022 07:30 [IST]
Last Update: Monday, Jan 10, 2022 01:52 [IST]
Sikkim makes negative RT-PCR report mandatory to enter State, brings back 'odd-even' rule
SE Report
GANGTOK,: Sikkim government has brought back its 'odd-even' rule for vehicular traffic and mandated negative RTPCR report to enter State among other restrictions in the fresh Covid-19 guidelines issued today.
The State has revised guidelines for those entering Sikkim in view of the increasing Covid cases in the country and amid Omicron scare, states a Home department order.
The new guidelines will come into effect from January 10 and remain in force till January 24.
To ensure fewer people on the roads, the government has decided to allow vehicles with even and odd registration numbers to ply on alternate days.
The commercial goods vehicles, vehicles engaged in essential services, security and army vehicles and government vehicles on official tours are exempted from the restriction.  In regard to the inter-State movement of vehicles, there is an exemption for registered luxury taxis as well.   
The odd-even rule was first implemented in State during the first wave of Covid-19, in March 2020.  
Likewise, Health department has been asked to organise Rapid Antigen Test at all check posts and Pakyong airport, in addition to the mandatory negative RTPCR report which should have been conducted within 72 hours prior to entry.  
Central and State government officials on official tour and army personnel on duty will be exempted from this requirement. Likewise, drivers, conductors and helpers of commercial and passenger vehicles that commute will be exempted from the requirement subject to RAT of all such individuals once every seven days. State Transport department has been directed to organise the antigen test in consultation with Health department.
The workers and officials engaged in Railway projects, power projects, etc. who commute daily across the border shall be exempted provided the concerned agency engaging such workers ensure RAT for such individuals once every week.
The Labour department has been tasked to conduct and ensure registration of all labourers entering the State, fulfilling the requirement of negative RTPCR report.
The workers and technicians engaged in various projects and pharmaceutical units will be permitted to enter by concerned district collector on case of case basis, the order adds.
While allowing all factories and production units including pharmaceutical companies to operate with 100 per cent manpower, the government expects the management to ensure the Covid-19 protocol is followed by all.
In case of government offices, the State has restricted attendance at government offices, boards and corporations to 50 per cent of the total strength.
Schools and colleges will function as per the guidelines of Education department and HRD ministry, the order said.
 All sporting, competitive events will be deferred, as social, religious, political and sports related gatherings have been prohibited.
Authorities have also revoked the formerly eased restrictions and have decided to cap the number of people in wedding ceremonies to 50 and the number of people allowed at funerals to 20.
Pubs, discotheques, cinema halls and other similar places of entertainment along with restaurants, fast food centres and other eateries will have restricted entry as they will operate at 50 per cent capacity.  Home delivery of food items shall be permitted.
Shopping malls and showrooms will also have restricted entry of 50 per cent capacity.  Managements have been asked to ensure strict observance of Covid protocols by all visitors and staff.
Gyms, spas, beauty salons and barber shops can operate at 50 per cent capacity.  
Likewise, hotels, homestays and guest houses will be allowed to operate with 50 per cent capacity with strict adherence to Covid-19 protocol.
The licensing agencies like GMC, Excise department and Tourism department have been directed to form teams in consultation with district collectors and superintendents of police to conduct surprise checking of all such establishments to ensure Covid-19 norms are being complied with. "In case any establishment is found to be violating the existing Covid-19 norms, then the concerned authorities shall ensure that the establishment is closed for a period of seven days," the order states.
The medicine shops, petrol pumps and gas agencies will remain open as per usual operational hours.
These guidelines have been issued after an emergency meeting chaired by Chief Minister on Saturday.
Sikkim has so far not reported any cases of the Omicron variant.
Here is a look at some of the guidelines:
1.Odd-even movement of vehicles.
2.Negative RTPCR report mandatory to enter State.
3.Number of people allowed in weddings capped at 50 and funerals at 20.
4.Social, political, religious and sports related gathering prohibited.
5.Authorities directed to take necessary measures to ensure wearing of face masks and social distancing.
6.Strict fines for those violating Covid protocols. The fine has been enhanced to Rs. 500 in urban, semi-urban and bazaar areas.