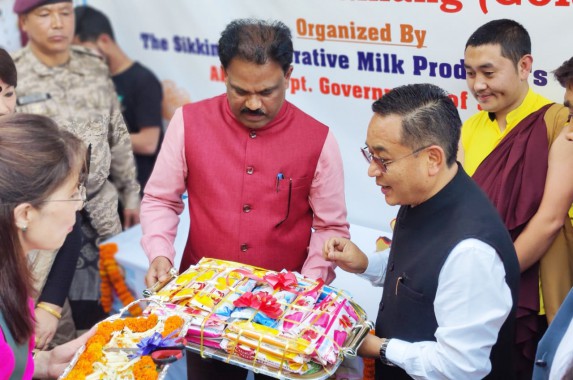 Tuesday, May 10, 2022 08:00 [IST]
Last Update: Tuesday, May 10, 2022 02:23 [IST]
Sikkim Milk Union re-launches ice cream products
GANGTOK,: A local way to beat the summer heat has come up with Sikkim Milk Union resuming its ice cream products which were launched for the market by Chief Minister P.S. Golay on Monday here.
Available in four flavours, the Sikkim Milk Union is targeting tourists visiting the State and children with its 40 ml ice cream sticks. The addition of a new product also caters to increased milk production in Sikkim which is now over 56,000 litres daily.
Speaking to media, Sikkim Milk Union managing director P. Senthil Kumar informed that the union used to make and sell ice cream products in the past. "However, there was a break in production for various reasons and we have recently revamped our ice cream plant to start making ice cream products. This enhances marketing options for milk procured by the union and also supports our dairy farmers," he said.
"It is the right time to re-introduce our ice cream products considering the summer season and tourists visiting our State. We are hopeful that it will take off," said Kumar.
On the occasion, the Chief Minister also flagged-off four marketing vehicles of the Sikkim Milk Union.
It was informed that the dairy incentive from the State government at Rs. 8 per litre has attracted unemployed youth resulting in significant increase in dairy farmers and milk production.
These four new marketing vehicles will be deployed in Gangtok, Jorethang and other towns to explore new marketing areas corresponding to increased milk production in the State.
The Sikkim Milk Union managing director added that quality of milk has also been improved by the Gwalas to meet the SNF requirement and other procurement criteria of the union.