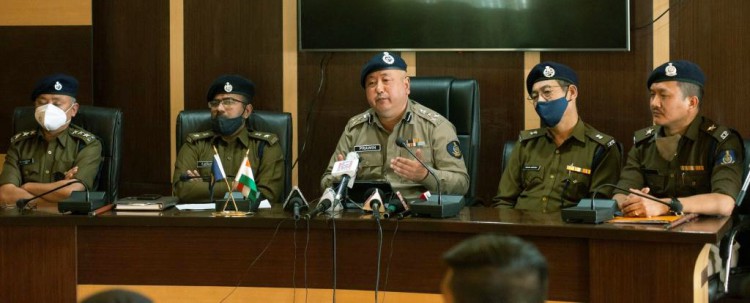 Monday, Apr 05, 2021 08:30 [IST]
Last Update: Monday, Apr 05, 2021 02:59 [IST]
Sikkim Police speaks on Prakash Gurung's arrest, says social media post could have led to huge law and order situation in Sikkim
GANGTOK,: Sikkim Police on Sunday said police action was taken against SDF worker Prakash Gurung (Prakash Lee) as his recent social media post could have triggered a "huge law and order situation in Sikkim".
Prakash Gurung has been booked under charges of promoting enmity between different groups and promoting disaffection against lawful authorities. The case was registered at Gangtok Sadar police station after his social media post over the disappearance of Bhim Bahadur Mukhia on April 1.
Addressing the media here, DIG (Range) and spokesperson Prawin Gurung said the nature of Prakash Gurung's social media post regarding the missing person was "serious and sensitive matter".
Questions had been raised on the arrest of Prakash Gurung for his social media post. His family members had also protested outside the Gangtok police station asking why Prakash was being targeted by the police.
"It is a serious and sensitive matter. A person went missing after giving a video statement against the State government but was later found by the family members. Consider a situation that if Bhim Bahadur was still missing and due to other reasons could not be traced, the particular social media post would have created a huge law and order situation in Sikkim," said the DIG (Range).
The person in question had gone missing on March 26 after giving a video statement in Facebook against the State government and a missing person report was filed by his wife on March 28. He was later found and accordingly, his wife withdrew the missing person complaint on March 30.
The missing person was also presented to the media on April 1 evening by Gangtok Sadar police after the controversial social media post. A complaint was also made by Bhim Bahadur Mukhia's wife claiming that her family was put under severe mental stress due to the particular social media post.
Following the complaint, Gangtok police registered a case and arrested Prakash Gurung the same day.
SP (East) Shiva Prasad Yellasari added that the nature of the particular social media post had the "potential to incite violence against authorities" if the particular missing person was not traced so far. He mentioned that false information was also shared through social media, 48 hours after the missing person was traced and recovered.
The accused person is presently out in bail granted by the court.
Regarding the question on why Prakash is being arrested regularly, the DIG and the SP (east) shared that the cases are on basis of complaints and from 2016 to 2021, seven cases have been registered against him at different police stations under various IPC sections.
ASP (east) Sonam D. Bhutia, SDPO (Gangtok) Prakash Subba and Gangtok police station SHO Mingyur Tempo Nadik were also present at the press conference.