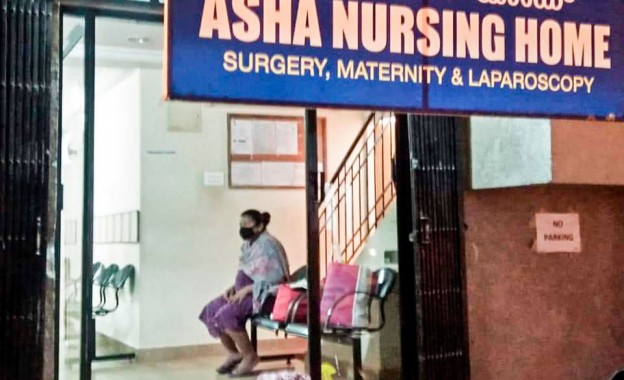 Wednesday, Jul 08, 2020 12:15 [IST]
Last Update: Wednesday, Jul 08, 2020 06:42 [IST]
Sikkimese woman gives birth, tests Covid positive in Bengaluru
PANKAJ DHUNGEL
GANGTOK: A Sikkimese woman delivered a healthy boy at a Bengaluru hospital on Monday morning but both are kept separately by the hospital authorities since she has tested Covid-19 positive.
The 34-year-old woman was working as a hairdresser in a beauty salon in Bengaluru. She hails from South Sikkim.
It was not a smooth sailing for the Sikkimese woman. She was denied medical attention in a nursing home where she used to go regularly for pregnancy checkups. She had developed labour pain at around 11.30 am on Sunday and her family took her to the regular nursing home in Viveknagar, Bengaluru.
Her swab samples for Covid-19 had been taken by the nursing home two days earlier. Before the report came, the nursing home refused to admit her even though she was in severe labour pain.
Social activist Roseline Gomes working for Swaraj Abhinay told SIKKIM EXPRESS: "She developed labour pain around 11:30 am on Sunday and her family took her to Asha Nursing Home in Viveknagar. Around 2:30 pm they sent her out of the hospital and refused to admit her, while she was in severe labour pain. They said they cannot treat someone with suspected Covid-19 symptoms. She was made to sit on a chair outside the nursing home for hours and no healthcare worker attended to her."
"How can the hospital be so negligent and throw out a woman in labour pain? They could have referred her to another hospital or guided us. It is their responsibility to take care of her. We were all panicking and began searching for hospitals to take her to. At around 8 pm we took her to Vagus Hospital in Malleswaram and she delivered a healthy baby boy on Monday morning but since then the mother and baby have been separated to avoid the spread," said Roseline Gomes speaking over phone.
When Vagus Hospital contacted the nursing home, they found that the result was positive. The family also got a call later confirming the positive result. As they were unable to afford Vagus hospital, she was shifted to Vani Vilas Hospital later on Monday night.
"It was a huge risk to the mother and baby. The nursing home could have let her deliver and then shifted her to another hospital for Covid-19 treatment. This is a serious issue and is not the way to treat a patient, irrespective of if they have corona or not," said Roseline Gomes.
No contact could be made with the Sikkimese woman.