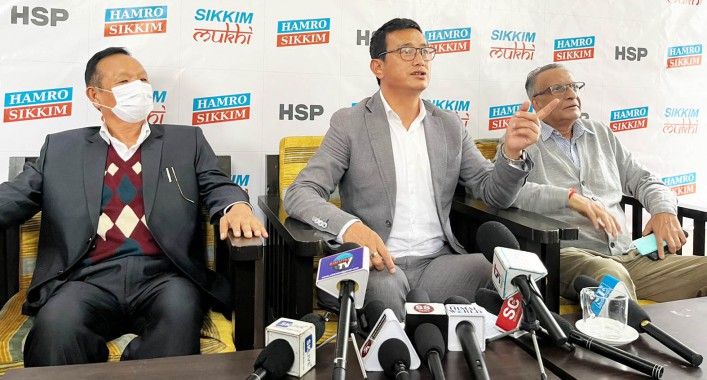 Monday, Aug 15, 2022 07:45 [IST]
Last Update: Monday, Aug 15, 2022 02:10 [IST]
SKM has no agendas left for 2024 elections: HSP
DICHEN ONGMU
GANGTOK,: Hamro Sikkim Party today announced that they will contest the 2024 general elections with their slogan "Sikkim ko Aatma Sikkimey ko haath ma", and guaranteed that Sikkim will be number one State in the country within three years of their governance if elected to power.
Addressing a press conference here on Sunday, Bhaichung said the HSP is overhauling the party to contest the ruling Sikkim Krantikari Morcha. "We do not want a party like SKM which is into politics of lies, encourages violence, indulges in corruption and creates differences amongst the public, to come to power again."
"In the name of change all we can see is the change in party leaders and cadres. No real development has been made during SKM tenure. The party has no agendas left for the coming general elections in 2024 since they have brutally failed to keep the promises made in their 2019 party manifesto. It is time the Sikkimese raise voice against the party leaders who are interested only in minting money rather than working for the welfare of the public," stated Bhaichung.
He also clarified that the speech made by him during a public meeting at Tokal-Bermoik recently was not a political speech. He said he was only trying to correct the wrong propaganda of the SKM party.
"It's funny how leaders who claim to stay in power for more than 30 years are feeling insecure over my speech and is targeting the organisers who invited me to the function," said Bhaichung.
He urged the SKM party functionaries not to harass the organising committee, school principal and the teachers over the speech made by him and rather start working for the public.
Bhaichung further condemned the grand celebration of Jan Unmukti Diwas by SKM party on August 10.
"On August 10, SKM party president P.S. Golay was proven guilty by the court over a corruption case and sentenced to a yearlong imprisonment. On what basis the SKM supporters are terming the day as a day of freedom for Sikkim. It's actually a black day and deserves no celebration," stressed Bhaichung.
On his rare public appearances, Bhaichung informed that his party does not believe in showing off and making fake promises. "We are raising pertinent issues time to time and working towards strengthening organisation with the support from the leaders and the supporters of our party who are intact since 2018."
HSP spokesperson Biraj Adhikari stated that quality of politics is decorating in the State with the leaders only interested in power.
He added the promises made by SKM party to the people of Sikkim never got fulfilled in reality and should be seriously pondered upon.
Looking at the "ignorant behaviour" of the ruling SKM and the SDF party towards Sikkim and Sikkimese, HSP has decided to focus on the real issues which concerns everyone, he added.