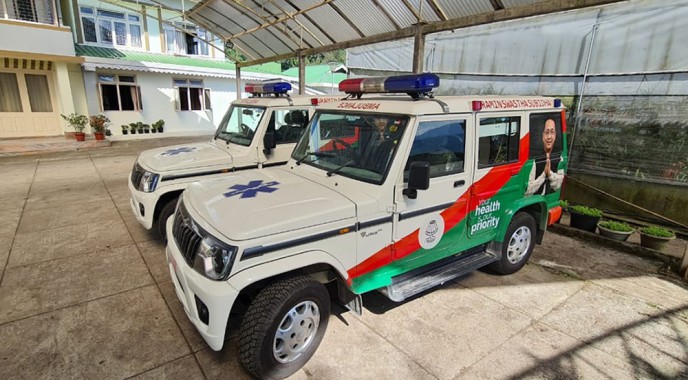 Friday, Oct 23, 2020 10:30 [IST]
Last Update: Friday, Oct 23, 2020 04:51 [IST]
SKM readies two vehicles to serve as ambulances in rural areas
SE Report
GANGTOK: Two vehicles to serve as ambulances have been provided by the ruling SKM for people living in remote areas and in dire need of medical attention.
In a press release, SKM spokesperson Jacob Khaling today informed that the two vehicles as ambulances will be available shortly to serve the needy patients.
"Party president and our Chief Minister P.S.Golayhas always advocated for better healthcare for the poor and the underprivileged and thus these vehicles have been provided from the SKM party's behalf so as to provide urgent relief in far flung areas and to patients in dire need of urgent health care. The Chief Minister has directed that these facilities be provided especially in rural areas for the upliftment of the poor and needy," said Khaling.
Khaling, also the Chief Minister's political secretary, informed that the formal launch of mobile village clinic of the State government will officially take place in April 2021 with the main aim of providing better health facilities especially to rural people. This is a trial run before the big launch to understand the grassroots problems and rectify, understand the situationand get feedback so that better plan can be implemented during its official launch, he said.
"This is a personal initiative from the Chief Minister's direction and the main idea is to bring basic healthcare to people's doorstep especially in remote areas where not just treatment will be at hand but even medicines will be available to the rural masses," said Khaling.